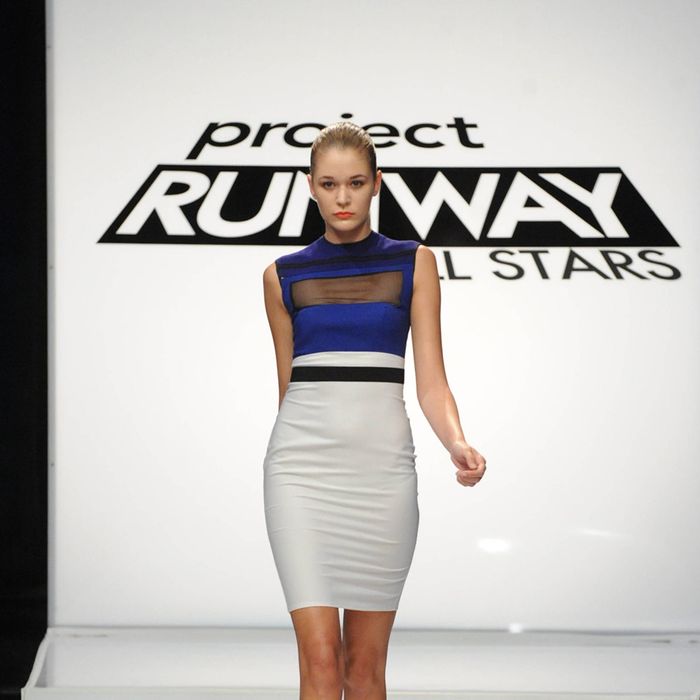 I think my least favorite thing about this week's episode of All Stars was that it did not manage to simultaneously be both an hour of reality television and the midnight premiere of The Twilight Saga: Breaking Dawn - Part 2. Is that too high a standard?
This week, Joanna is joined in the workroom by Sandra Micek from USA Today, who explains that USA Today "pioneered digital storytelling and infographics." The images shown during her explanation include a weather map and a picture of an Amish man in a buggy, which do not strike me as entirely groundbreaking, but okay. Joanna goes on to explain, "In publishing we have a saying: Every picture tells a story." I personally consider that less of a saying and more of a Rod Stewart song, but I'm willing to go with it, which is good, because that's the theme of this week's challenge! (Seriously, though, that song holds up, right?) Fans have tweeted inspiring pictures to the folks at All Stars, and each designer will take one and parlay it into a runway look. The winning designer and look will be featured in USA Today.
Photo selection gets underway; Emilio chooses a picture of a little girl, while Althea picks a picture of a train station because it reminds her of where her husband proposed. There are a few more prosaic choices — a jewelry box, a sunset, a butterfly — and a few unusual ones — Andrae picks a sad girl wearing a headband and Joshua chooses what looks like a spray-painted gas meter. Laura complains about nothing in particular and says, essentially, that everyone hates her because she's rich. Substitute "obnoxious" for "rich," and then, yes, you're correct.
It's a one-day challenge, so everyone's nerves are a little jangled, particularly because there are fears that the judging for this challenge might be "arbitrary," since it's more open-ended than usual. Andrae in particular seems off-kilter; he creates a "second level of desk" under his work table and uses it primarily to pretend he's Gollum. I shouldn't call that off-kilter, actually, since hanging out in a desk cave is an excellent way to unwind after a hard day at the office. When Joanna shows up for critiques, she brings USA Today's style editor, Alison Maxwell. Joanna, too, is unsure about Andrae — she says she can't tell if his look is bonkers or brilliant. (Spoiler: very, very bonkers.) Laura gets called out for making a long gown, since those aren't as wearable; her retort is that she's not designing for "the farmers of America." Emilio immediately tops her by saying that the headline of his look (based on the photo of the little girl, whose name is Sophie) is "Sophie's Choice." Whoops.
Uli is at work on a typical-Uli dress — pastel, draped, very pretty — and both Alison and Joanna love it, but they're less enthused about Kayne's use of red and black lace, which Joanna calls "hooker-y." When she compares Althea's design to her picture, Joanna wonders if the look will be as special as the picture is, and it's a good point — Althea's mainly focused on the architecture of the train station, while what makes the picture special is the light streaming in its windows. And unless I missed something, the teaser before the commercial break showed Joanna telling a designer she was surprised that he or she hadn't won a challenge yet, but she didn't say that to anyone during the actual critiques. Strange.
The next morning is an absolute mess — Andrae in particular, though he doesn't resort to his signature tulle sash to hide the flaws of his garment — but everyone makes it down to the runway on time, where Charlotte Ronson and Tavi Gevinson join the judges. It's a weak enough runway that even Kayne's hooker dress is enough to keep him out of the bottom three, and that's disappointing — at this point in an All Stars competition, it should be a fight for the top, not a fight for the bottom.
Still, there are a few strong looks, and Laura, Emilio, and Anthony Ryan end up on top; Anthony Ryan wins the challenge. Andrae's sent home, and that's not surprising — I actually had him pegged to leave within the first two weeks. On a related note. I need a gif of the "WTF?" face Charlotte Ronson gave his look as it came down the runway as soon as possible. Thank you in advance.
There's no All Stars next week, so you'll have to get your design challenge fix from judging the costumes in your family Thanksgiving Pageant, which I'm sure is a legitimate, nationwide occurrence, and not just something my mom made up because she likes the way kids look dressed as pilgrims.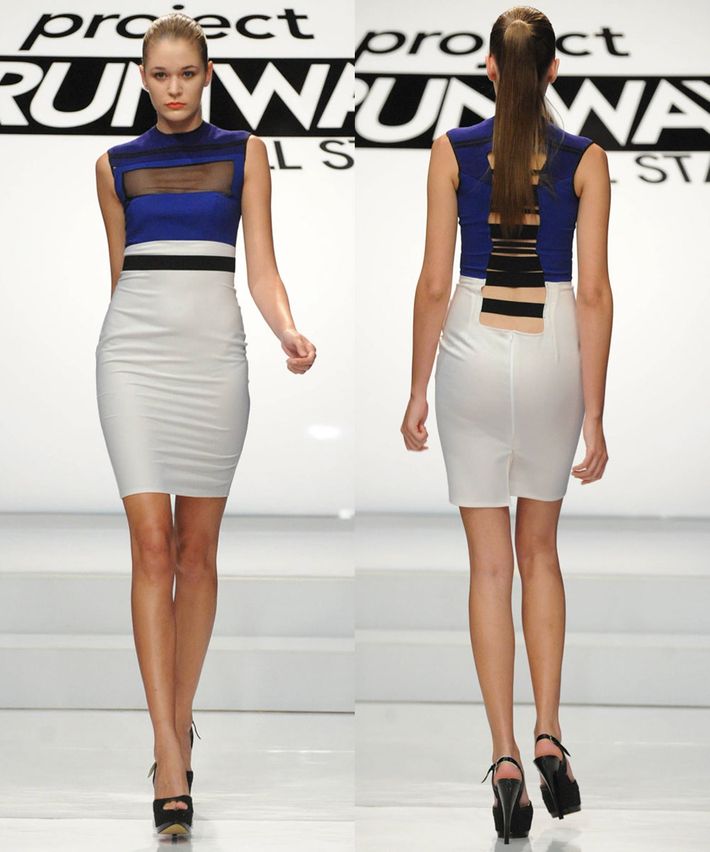 Anthony Ryan Auld — Winner
Anthony wanted his look to reference the idea of moving forward, as the photo did — Isaac said that this reference came across very clearly in Anthony's design. The straps are impeccably placed, and a dress that could easily become too sexy doesn't. Georgina and Carolyn both pointed out that they've seen these colors and this dress from Anthony before and they'd like him to branch out. Charlotte liked the more conservative neck and the longer hemline, and Tavi liked the look overall, especially the sheer panels in the front and the straps in the back. Anthony's personal story fits in very well with this look, which should make the USA Today feature writer's job pretty easy.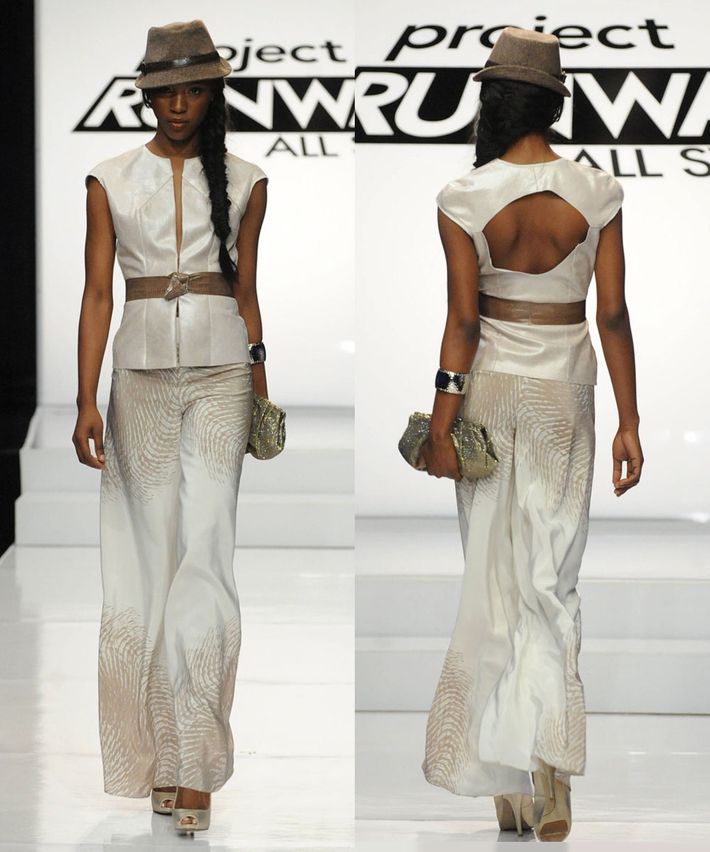 Casanova
When Joanna critiqued Casanova's look, she was panicked about the hats he had perched on top of his dress form, but Cassanova assured her that he was just trying to create a look that was both masculine and feminine. She didn't seem any less afraid of the hats after his reassurances, but I think the look came together nicely regardless. I continue to be impressed by how strong Casanova's construction skills are, and by how well he can execute long, flowing pants, which have the potential to be so unflattering. I'm always interested in seeing what he'll come up with next.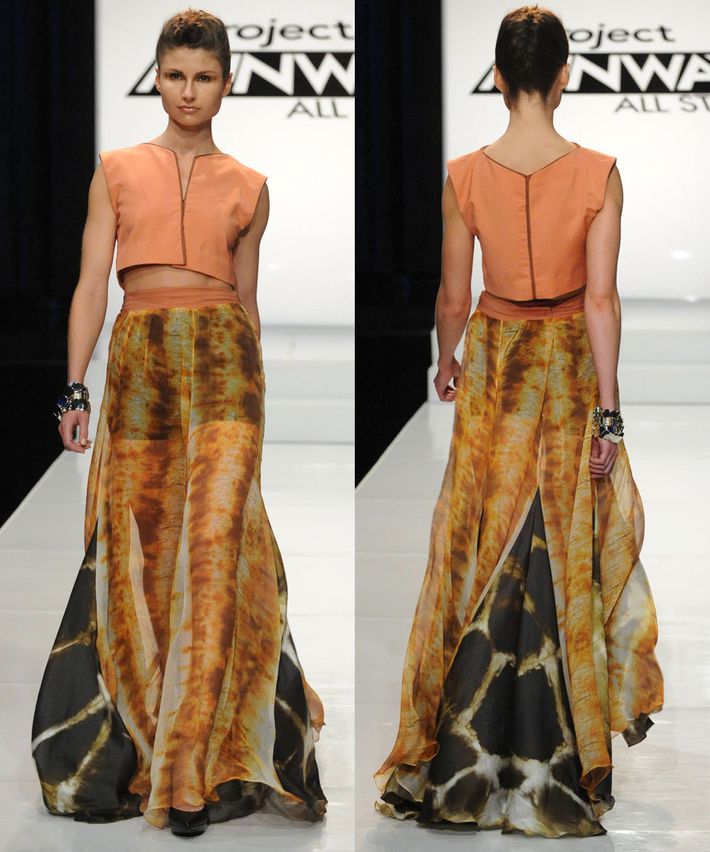 Ivy Higa
Ivy talked a lot about the idea of evolution, which Joanna weirdly got into during her critique, saying that she thought Ivy had evolved a lot from her original season and was in a good place now. That said, this look is very literal — I think even without seeing the photo that was her inspiration, it's easy to see that the print is meant to look like butterfly wings. I know Ivy is a big fan of exposed skin, but the cropped top seemed like it was a bit much, and the sheer skirt over boy shorts seemed odd, too, and like something Ivy's already done this season.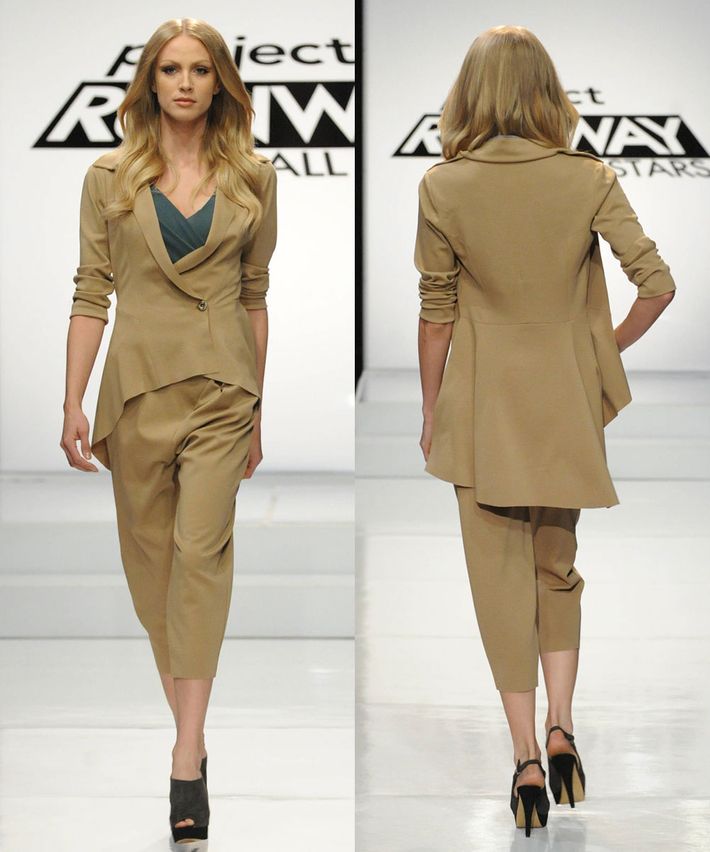 Althea Harper — Bottom Three
Althea talked about wanting her design to reflect the idea that the train station was something old, repurposed for a modern use. Isaac wasn't getting the pants with the jacket — there's a weird drape in the front that he said either drapes not enough or too much, and either way, it's unflattering. Carolyn liked the way the look referenced the colors in the photo, but thought that overall, it was drab. Charlotte liked the tailoring of the jacket, but was thrown off by the trousers. Tavi called herself a "drop-crotch apologist" and wasn't bothered by the pants, but still found the look uninteresting.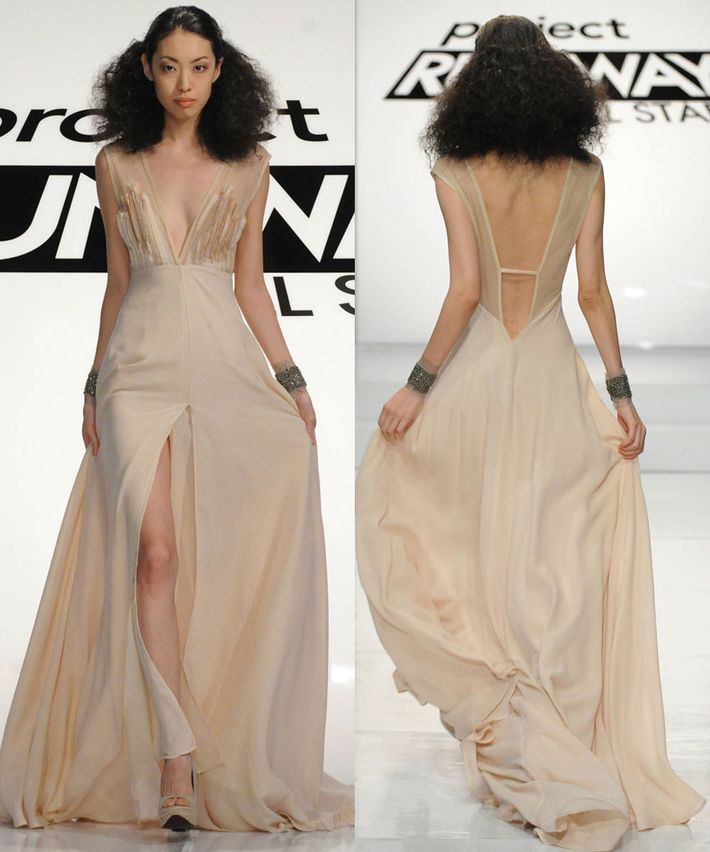 Uli Herzner
This was a very Uli look, and it was beautiful, and hard to believe she'd completed it in a single day. That said, Uli admitted that it faded into the background a bit because there wasn't any color in it. While that made sense with the photo she chose as her inspiration — a sunset taken from an airplane window — it's a bit troubling given the other looks she's created so far this season, many of which have been on the more sedate side. I'm imagining that the judges will start pushing her to challenge herself in the coming weeks, but she's more than capable of it.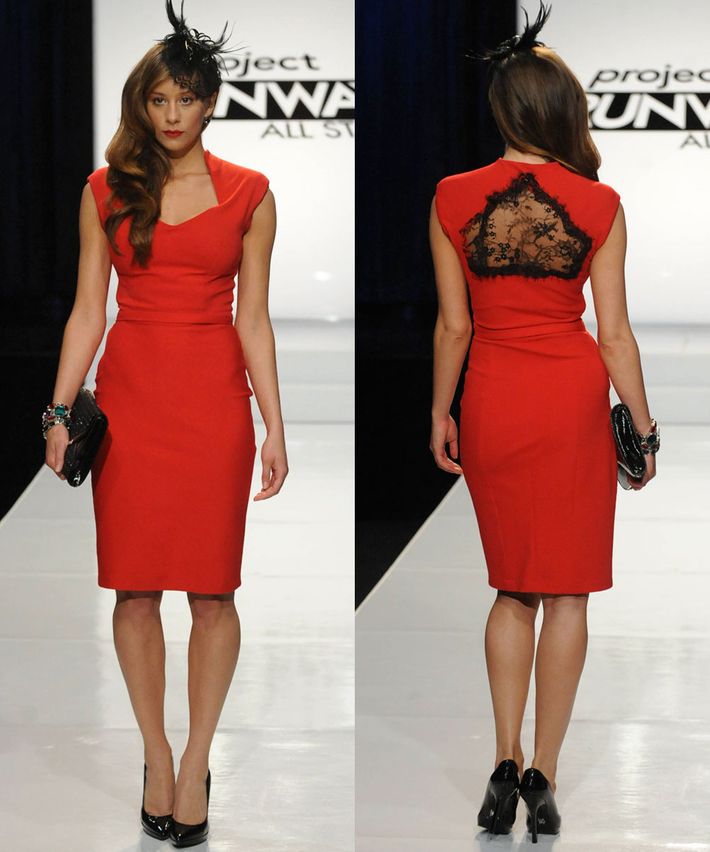 Kayne Gillaspie
Kayne's absence from the bottom three really does say something about how weak this week's runway was. I can't find the connection between this look and his inspiration photo, which was an open box of vintage jewelry, aside from the fact that the dress has a vintage-ish cut. Kayne's construction skills are great, and the dress is flattering on the model, which is a challenge with this particular cut (trust me — I've tried on bridesmaid dresses). Kayne likes to say that he's not just a pageant wear designer, and maybe that's true, but he's so good at dresses within that particular vocabulary, with bustiers and massive volume and sparkles; I'm not sure if he can be equally good while trying to tone it down.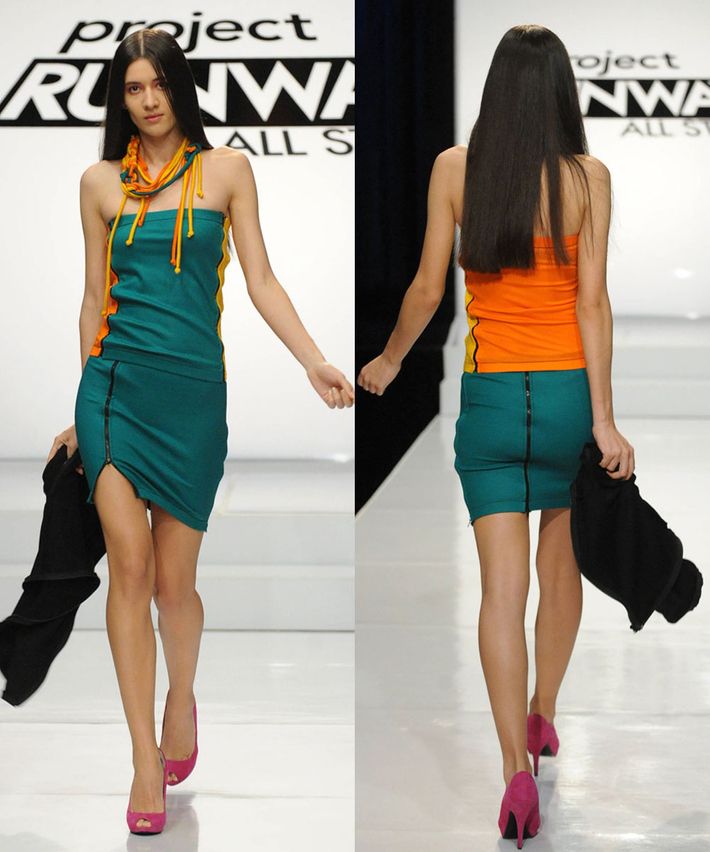 Andrae Gonzalo — Eliminated
Andrae referred to this look as "euphoric modular knits," which is … maybe pushing it. The stereotypically Rastafarian colors are an absolutely baffling choice, to begin with. Isaac just didn't get it, and Georgina pointed out that the idea was great, but that covering a garment in zippers and expecting the zippers not to buckle was silly. Charlotte thought it could've succeeded if Andrae had more time, which was generous of her. What no one could tell from the runway walk was that the garment was designed so that the panels could be zipped and unzipped to create new color combinations; something like that is just too conceptual for a runway show with a one-day deadline.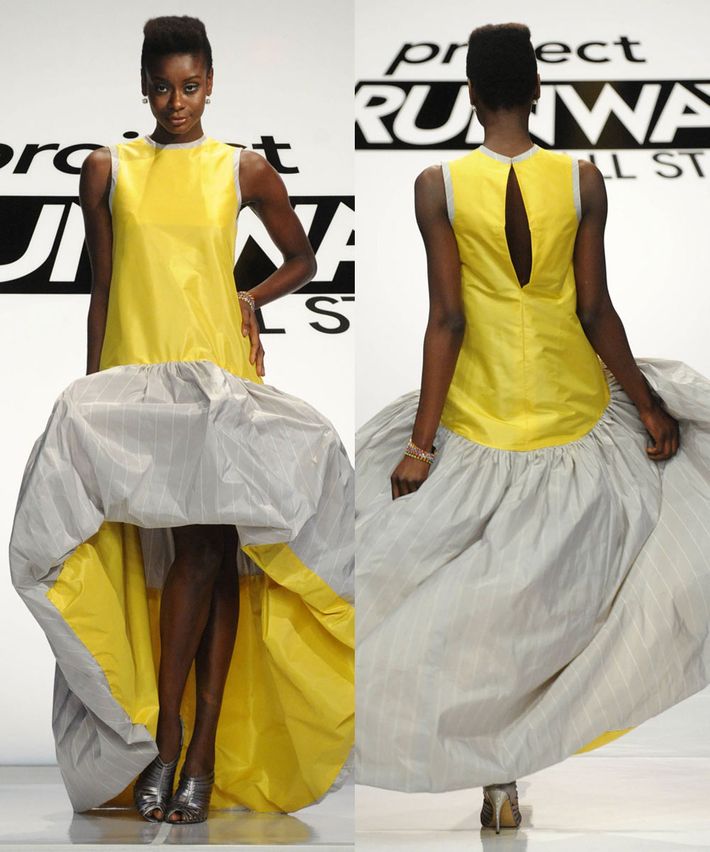 Emilio Sosa — Top Three
Emilio said that his photo reminded him of the fantasy of fashion, and that he wanted to create a dress with a fantasy element to it. Isaac said that it's light as a feather, and that Emilio"s girl looked totally modern in it. Charlotte said it was a harder dress to wear and that the shape could've been pushed out a bit more; Georgina was in love with emotion that the dress evoked. Tavi said that it was very loud and bright without being too overwhelming, but what kept him from getting the win was the fact that this dress isn't particularly wearable. That's true, but it still wins the prize for giving me the most feelings. Very prestigious.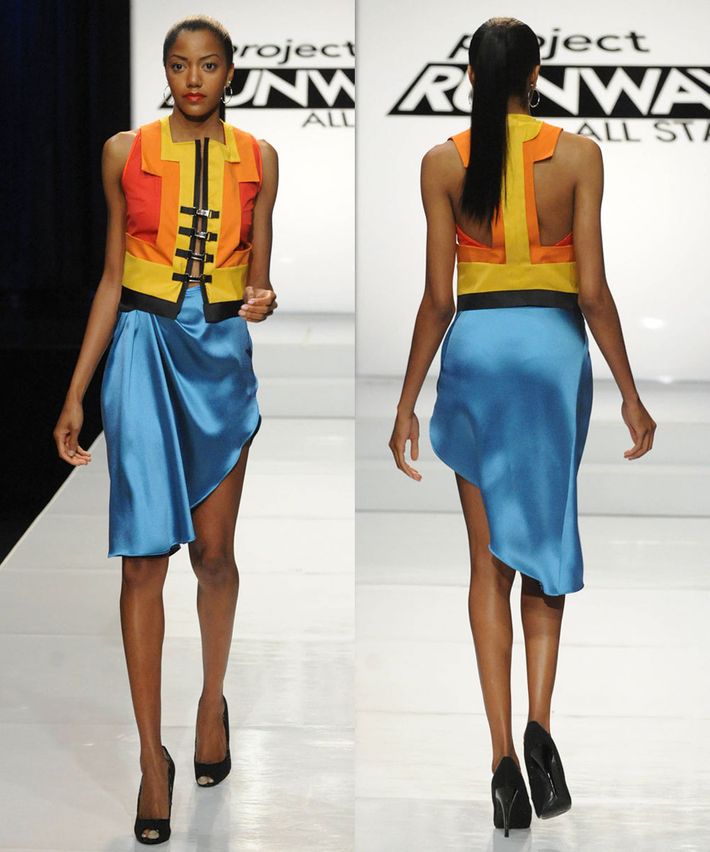 Joshua McKinley — Bottom Three
Joshua wanted his look to be both linear and fluid, but Georgina called it a "touch costumey" and wanted it to feel more organic. Isaac said that he loves "the idea of color" but that there was too much to think about in this look for it to work. Tavi pointed out that the two pieces didn't work well together, but that she also couldn't imagine them working well with other pieces. I'll continue to grapple with my own shame, since I thought, "Oh, Joshua's look is sort of cute" at the exact moment that Althea said she didn't know why anyone over the age of twenty would want to wear it.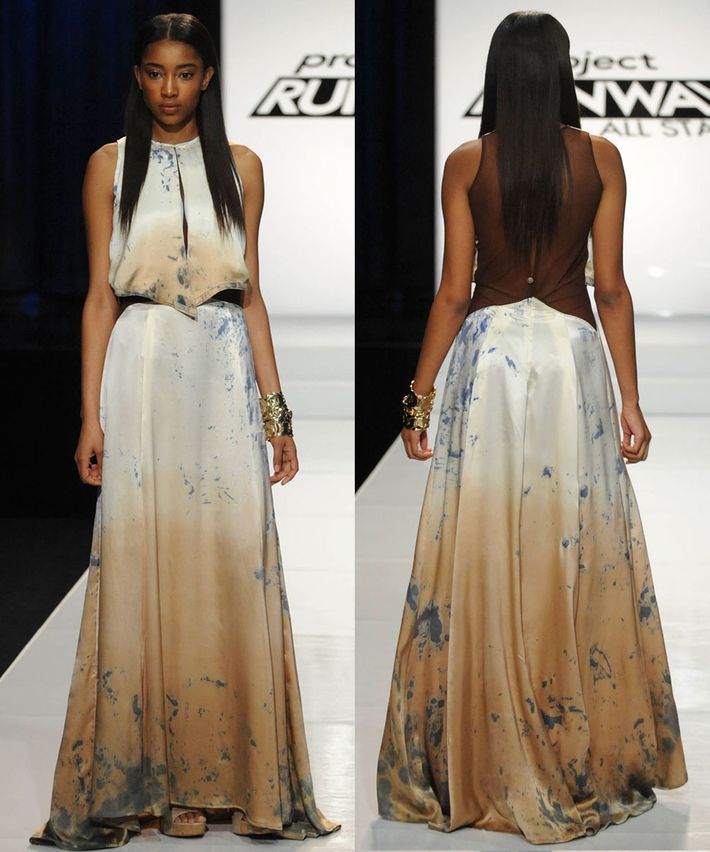 Laura Kathleen — Top Three
Laura hand-dyed her fabric and made the print, and Isaac really liked the relationship between the photo and the look. Tavi liked that the dress captures the mood of the photo without directly referencing water, and Georgina loved the print, but thought that if Laura was going to do a long dress, she should commit to having it actually touch the floor. (Preach.) Carolyn said the look really stood out to her as being very organic and beautiful, and said she'd want to wear it. Given what Carolyn was actually wearing at the time she said this, I'm not sure whether Laura should take that as a compliment.