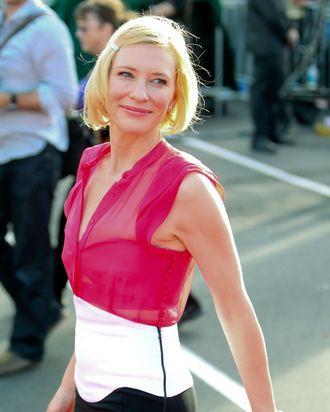 Photo: Hagen Hopkins/Getty Images
Her royal Elfness attended the world premiere of Hobbit: An Unexpected Journey last night in New Zealand wearing a color-block Antonio Berardi dress. She was a vision of sleek sophistication with her Roger Vivier peep-toe shoes, and our eyes scanned up her dress until … wait, is she wearing a barrette? 
Inches above her right eyebrow, the placement of the metal clip is exactly the same as those tiny, plastic, butterfly-shaped clips from our childhood. In a way, it's reminiscent of Drew Barrymore's flower-child phase in the nineties when she'd pin back her pixie wisps with a little clip and a daisy, then dance topless for David Letterman. Gwyneth Paltrow also channeled the junior-high look as coy girl-woman Margot in The Royal Tenenbaums. 
We don't hate barrettes. They're great for pulling back hair off the face and securing it somewhere above (and behind) the ear. Anywhere closer to the face, though, and you've got a problem. A Lolita problem. And that's something no grown woman should be going for.