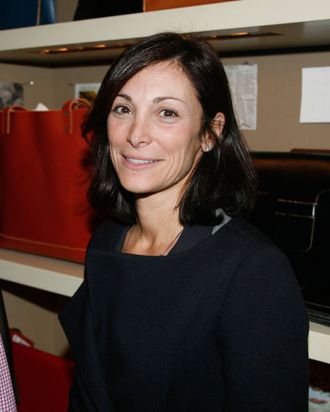 Lynn Tesoro.
Photo: DAVID X PRUTTING/PatrickMcMullan.com
You may recall that Lynn Tesoro, co-founder of PR firm HL Group, was unceremoniously slapped in the face by an angry attendee at the Zac Posen show in September. While there's some dispute over who exactly committed the slapping, Jalouse magazine's Jennifer Eymere took full credit for it at the time, explaining, "It was a small slap. I didn't hurt her, it was just to humiliate her … I just said at the end, 'Now you know you don't f–k with French people.'"
Regardless of the slapper's identity, everyone agrees the incident occurred because Eymere was angry with Tesoro for refusing to seat her mother, Jalou publishing house president Marie-José Susskind-Jalou, after fire marshals yanked 60 chairs from Posen's venue. A few days later, Tesoro filed charges against Eymere, her sister Vanessa Bellugeon of L'Officiel magazine, and their mother for assault and slander; yesterday, she filed a lawsuit against them in New York Supreme Court, WWD reports.
According to Tesoro's lawsuit, it was Susskind-Jalou who slapped her, not Eymere. From WWD:
A heated exchange between Tesoro and the trio ensued and culminated in Susskind-Jalou striking Tesoro "without provocation," court papers said …

Not only did the incident physically harm Tesoro, but it also "injured" her business and "humiliated" her.

"Such statements falsely indicated that Tesoro deserved to be slapped because she verbally 'humiliated' Susskind-Jalou, when the exact opposite is true," Tesoro's lawyers said.
Tesoro is seeking unspecified damages for charges of libel against Eymere, battery against Susskind-Jalou, and both assault and slander against all three defendants, including Bellugeon.
Related: Somebody Was Slapped Across the Face at Zac Posen's Spring 2013 Show; Naomi Campbell Not a Suspect