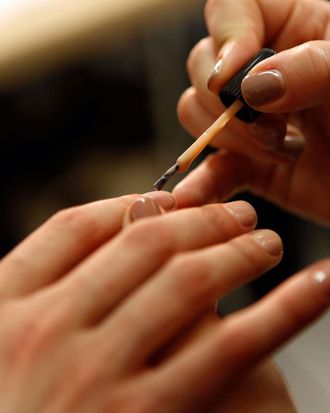 Photo: Thos Robinson/Getty Images
Q: I want to use a natural nail polish without toxic chemicals, but don't they chip a lot faster than the regular kind?
A: "Truly organic, all-natural nail polish doesn't really exist," says Elle, a celebrity manicurist. "Formulas still contain chemicals, but are much less toxic now." Old-school lacquer once contained formaldehyde, dibutyl phthalate (DBP), and toluene – which can cause allergic reactions or harm skin and nails – but that's obsolete now. Most major brands including Essie, OPI, Revlon, L'Oreal, and Chanel have gone 'three-free,' pulling this toxic trio from their formulas. So-called "organic" polishes eliminate two more dangerous substance: formaldehyde resin and camphor. "These use formadehyde-free resins for durability, and safer solvents and plasticizers to help the paint harden and bond to your nails," explains cosmetic chemist James Hammer. In general, they last as long as more toxic varnish. "If your polish is chipping, it's not because it's 3 or 5-free. It's because your prep and technique wasn't done properly," adds Elle. If you're worried about your own skills, find a reputable salon, then have them apply the safest polish possible.