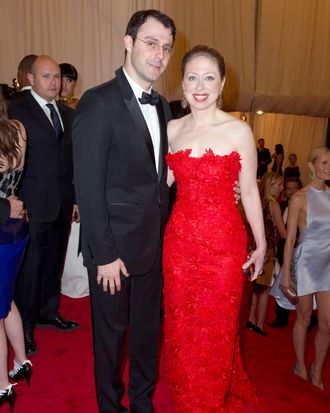 Photo: Ron Asadorian/Corbis
Chelsea Clinton is trying to get pregnant, says "Page Six." The tabloid's international spies overheard Bill telling guests at a University of Limerick event that Chelsea and husband Marc Mezvinsky are "working on it." 
Don't think of it as work, you guys!
Normally this would be categorized as a Mortifying Dad Moment but (a) Bill's set the bar pretty high for embarrassment, and (b) Chelsea had been using Hillary's grandchildren hints as a punch line recently. Per Chelsea's Vogue profile:
"I am proud of my mom for many, many reasons," says Chelsea, in sleeveless black Chanel, "but one of the reasons that I'm chiefly proud of her is the legacy that she will leave as secretary of State. That women's voices won't only be a vital part of how America is seen around the world, but a central part of how we … try to build a better world for — if she were here she would say — the grandchildren she hopes to have."
Chelsea and Mezvinsky's wedding was endlessly compared to its loose British equivalent, the royal wedding, which took place less than a year later. Now, if Bubba and the duchess's chatty friend are to believed, Chelsea and Kate Middleton could be in for comparative pregnancies as well. At least now they're allowed to drink through it.