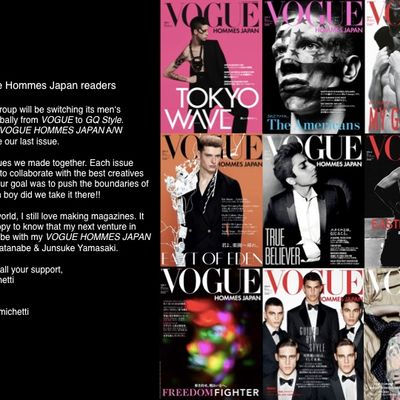 From Nicola Formichetti's Tumblr … does this affect L'Uomo Vogue?
Update: Condé Nast sent the following statement to Fashionista, explaining the changes are only for the Japanese edition of the magazine.
We believe "GQ Style" to be a magazine based solidly on the leading opinions in the realm of stylish authentic fashion paired with the latest trends that stir its readers' sensibilities. At the same time, it incorporates current market values as well as being readily adaptable to the tastes of Japanese men who are in search of diverse fashion and accommodating the movements in the Japanese fashion market.

In recent years, Condé Nast Japan has enjoyed considerable success through the publication of "VOGUE HOMMES JAPAN" as an international high-fashion magazine for men. We intend to make maximum use of the experience gained in producing this title by pouring this experience into "GQ Style" to ensure the ongoing development of a stylish fashion magazine that fits perfectly into the Japanese men's market.