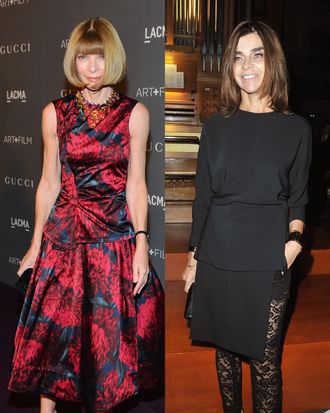 Maybe they braided each other's hair!
Photo: Getty Images
While many New Yorkers spent the past few days cursing their useless cell phones, wishing for a shower, and dreaming about hot coffee, there were those fortunate enough to pay their way out of such indignities. Among them was Anna Wintour, who, according to the Post, fled her West Village apartment for freshly washed sheets and Jean-Georges room service at the Mark Hotel on the Upper East Side, where single-bed suites start at $1,205 per night. Incidentally, Carine Roitfeld was also there, as it's her residence of choice when she's in New York. Maybe they ran into each other in the elevator and made awkward conversation about their shared love of the Mark's egg-white omelettes! Just kidding — Anna would've taken the stairs.
Another popular uptown spot for Sandy refugees was the Carlyle, which reportedly gave shelter to Grace Coddington (plus her cat?) as well as Mary-Kate Olsen and Oliver Sarkozy, who had to evacuate their East 10th Street townhouse. We are still awaiting their submission to our compilation of "Sex With Sandy" stories.