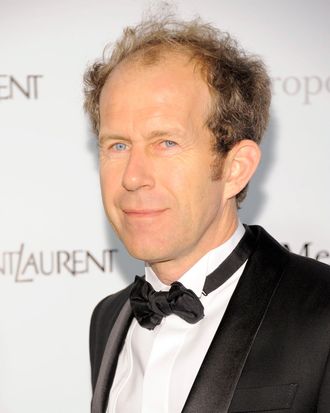 Today in Things That Are Still Happening: Paul Deneve, president and CEO of Saint Laurent Paris, wrote a letter to WWD's editor about the newspaper's November 19 article "Paris Match: Hedi vs. Raf." The piece was sort of what it sounds like, including quotes from Deneve ("Orders were beyond expectations — and we had great expectations") and several paragraphs dedicated to "other standouts" in Paris that belonged to neither Hedi nor Raf; however, as Deneve says in his letter, "I always enjoy reading WWD reports but I was disappointed not to see this one take its usual neutral stance." Yo, when's he going to dis Cathy?
First, the article summarizes the reviews as "comparatively tepid" for "Slimane's reverential treatment of smokings (tuxedos) and bohemian dresses," only quoting three editors, one of them admittedly partial (Cathy Horyn: "a cheerleader" for Raf Simons, the article says). This does not reflect the highly positive coverage Hedi Slimane received from the press commentators around the world, from France to Italy, Japan, China and the U.S.
So, it's no insult (well-played, Deneve); in fact, it's a fine visual — Cathy Horyn in a Dior-designed cheerleader outfit, we'll bring the pom-poms. But Deneve wants us to know that spring 2013 wasn't about Hedi, Raf … or Hedi: "[T]o caricature the arrival of Hedi Slimane at Yves Saint Laurent to a banal rivalry with another house or designer encourages people to relegate fashion to a sideshow rather than the main event." I meeeaaan …
In particular, it obscures what is a much richer and I think more important moment in the fashion industry. Hedi's choice to join YSL was motivated by a very clear vision for the house, which means round-the-clock work for him and all my teams to turn that vision into a reality for all to see and enjoy. It is also for them that I am writing, and to point out that the changes under way at Yves Saint Laurent will bring new excitement and change to the fashion industry at large.
Along with a renewed commitment to the epistolary novel.