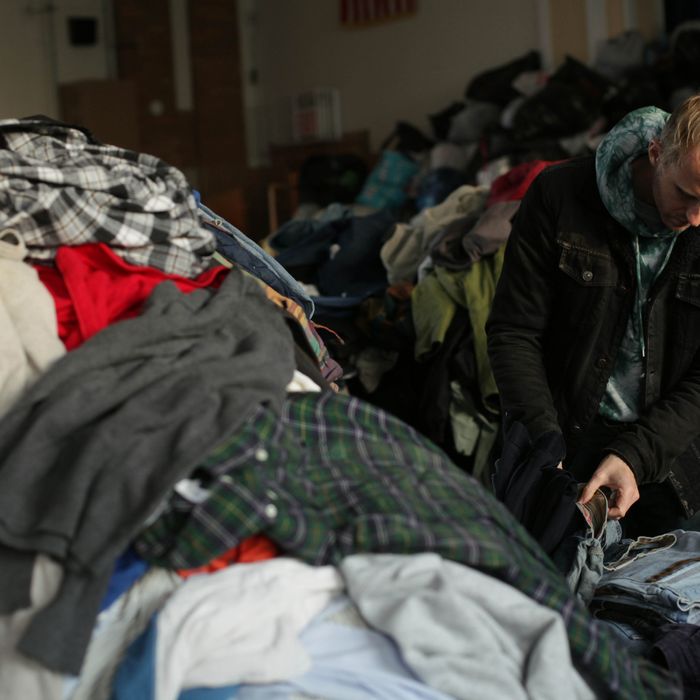 Photo: Allison Joyce/Getty Images
Snooki has been gathering up tracksuits and sweats to send to those affected by Hurricane Sandy, including the residents of the Jersey Shore. While it's heartening to see celebrities raising awareness for philanthropic causes, professional relief organizations say this impulse, like her fan Mitt Romney's "storm relief" rally, is misguided. According to an op-ed in the Los Angeles Times this week, 60 percent of the supplies that arrive at a disaster site are not beneficial to the survivors and should not have been sent. These unsolicited donations — as frivolous as tuxedos, Spanish flags, wedding gowns, and sex toys — are referred to as a "second-tier disaster" by relief workers because unloading and sorting them diverts valuable man power and slows the arrival and processing of requested goods.

The Red Cross website says that it won't accept clothing or food because it "must be sorted cleaned, repackaged and transported which impedes the valuable resources of money, time, and personnel." The Finnish Red Cross gathers all the unsolicited donations, sells what they can, and uses the proceeds to buy things they actually need. Likewise, Occupy Sandy organizers (a greater presence than the Red Cross in some Sandy-affected areas) have written all over their site, in red all-caps type, that they are no longer accepting general clothing donations.
As the temperature drops below freezing and outer-borough New Yorkers remain without heat, donations of winter coats, hats, gloves, and blankets are still welcome. The delicately worn T by Alexander Wang cardigan I saw in a heap of donated clothing at the Rockaway Youth Task Force Saturday, meanwhile, got passed over by volunteers, along with hundreds of T-shirts and shorts. But the $50 it might have brought in a Sandy-benefit eBay sale will be desperately needed for a long time. Here are The Cut's suggestions for more effective ways to help.