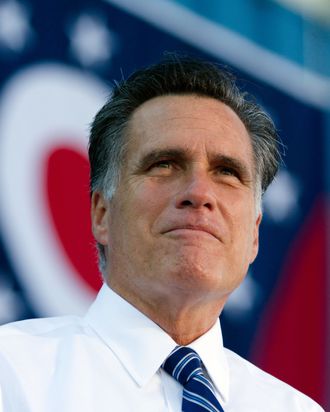 Photo: Joshua Bickel/Corbis
Scientific American contacted the evolutionary biologist whose research was used by National Review deputy managing editor Kevin Williamson to argue that Mitt Romney's demonstrated ability to produce male offspring should, from an evolutionary perspective, earn him "100 percent of the female vote," including Michelle Obama's. His response?

"HAHAHAHAHA!"
Robert Trivers's 1973 paper said that high status red deer, among other animals, tended to produce more male offspring, which Williamson marshaled as evidence that Mitt Romney, with his five sons and many grandsons, is "basically a tribal chieftain," while Barack Obama, with his two daughters, might as well be given a "cardigan" and "fallopian tubes." In addition to criticizing Williamson's application of his research, Trivers points out that when women vote, they are selecting a president, not a mate.
"Maybe the guy should be saying that all women should try to f— Romney. Look, the f—er's rich. Can you f— him and get some of the money? Or are you just voting for him? They're two different decisions."