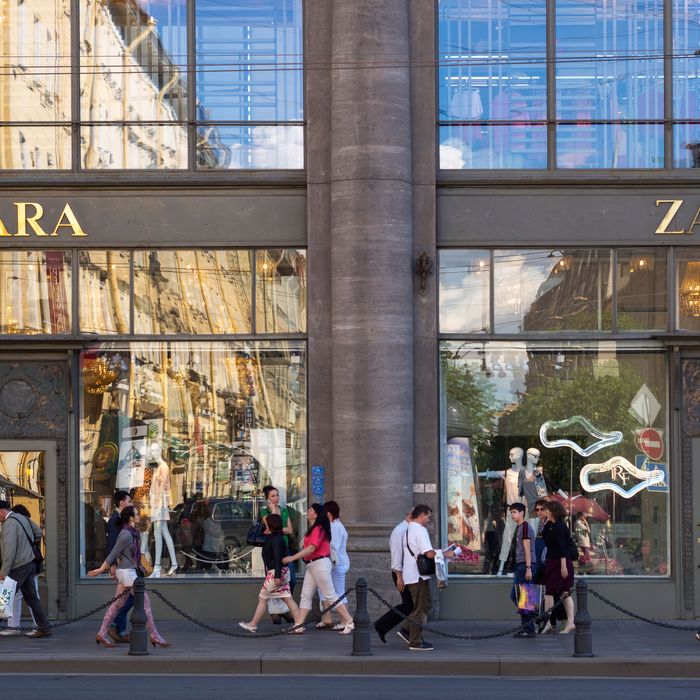 The Times' new article on the chain looks at parent company Inditex, its founder (and the world's third richest man) Amancio Ortega Gaona, and how fast fashion forces high-end labels to eke out more collections — and explains why there won't be a Zara coming to a Kansas near you. It's because "[t]he United States is a graveyard of European retailers," says José Luis Nueno, a professor of marketing at Madrid's I.E.S.E. Business School:
Everyone who has gone there has struggled. Laura Ashley has shut down and even Benetton is declining. The U.S. is really complex because it's about putting stores in shopping malls in the middle of nowhere. Fashionistas live on the East and West coasts. Then everyone else dresses in the Gap and Walmart and T. J. Maxx. If you really wanted to cover the U.S., you would have to open 300 stores, and they would have to focus all their energy to make it work.
That's only 255 more. But, Columbia Business School professor Nelson Fraiman adds, "Zara to me is a European store for European style; it's very fashion forward. And what is the problem in America? They don't fit in the clothes. So why do it? Having to make larger sizes makes production so much more complex."
Instead, Zara is opening 400 stores in China, at a rate of three per week … which means (at least) 400 nauseatingly long fitting-room lines, a bazillion patterned blouses, and countless swear words muttered under one's breath. Enjoy, China!