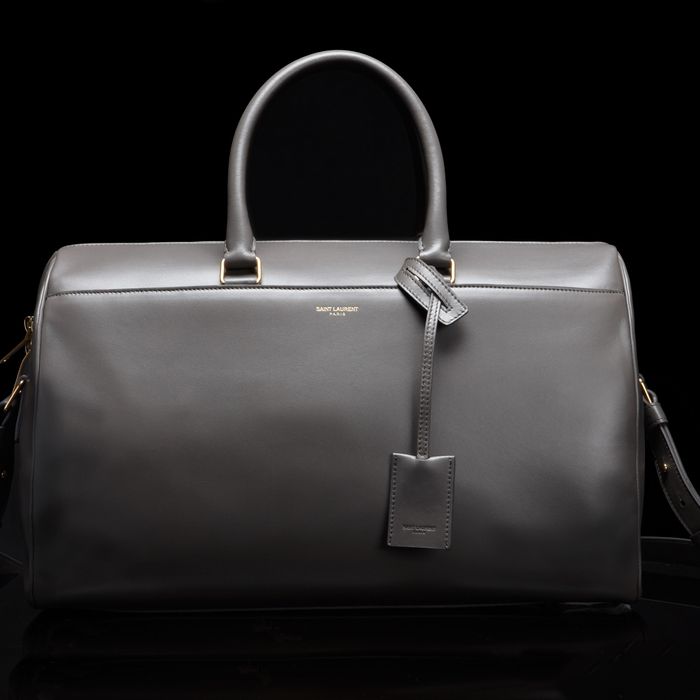 Months before the Internet was judging his first women's runway collection, Hedi Slimane gave his friend Gwyneth Paltrow the Patient Zero handbag from his rebranded Saint Laurent. As paparazzi always do, they snapped her in LAX airport. And when I saw the bag in those photos, I had one of those "I need that" feelings that rarely overcomes me, especially when it comes to purses.
The size and shape is like that of the large version of the Louis Vuitton "Sofia" Coppola tote (beloved by many starlets), and the structured-yet-supple leather reminds me of the rigorously understated bags by the Row. Gone is the huge Y embroidering and heavy hardware. Instead, the Saint Laurent Classic Duffle remains as streamlined as the Tom Ford and Givenchy bags that have been selling so well at places like Barneys, Saks, and the continent of Asia. Yes, it costs a fortune. But at $2,650, it's also half the price of many popular luxury bags. The last time I felt one of these Malcolm Gladwell Blink moments was the first time I saw the Céline Shopper tote. We all know how that worked out. It's only a matter of time before Kate Moss gets her Classic Duffle, breaks it in nicely, and the rest of the world takes her lead.
This is obviously Hedi's first women's handbag, and the launch is reportedly of incredible importance to him. After all, if Saint Laurent can produce just one killer/must-have/major/fashion-adjective-worthy accessory or fragrance, then the creative director can continue to do as he pleases with his controversial runway shows (and whatever else, for that matter). Most luxury brands see a huge difference in sales between their ready-to-wear and accessories business, with the latter comprising the bulk of their profits. See: Balenciaga. Or Proenza Schouler and their PS1 launch. As one former buyer at Prada (who asked to remain anonymous) explained to the Cut: "Five or six years ago, accessories only made up 40 percent of the U.S. business. The margins are so much better on accessories that management made a concerted effort to switch it." Of course, it worked. "Now it is closer to 60 percent in the U.S. and probably as high as 75 percent in Asia."
Already, Hedi has made something beautiful (and highly sellable) to put in that Saint Laurent store he just opened in Shanghai. But even in America, this bag will take off. The fuss over who was invited to his show will finally be eclipsed. And all those editors who complained they couldn't get a seat will be in touch — this time to beg for a place on the Classic Duffle's waitlist.
——
The Classic Duffle: Available in stores mid-January in black, cream, red, and gray (our personal favorite). Until then, you can preorder it on the Saint Laurent web site.