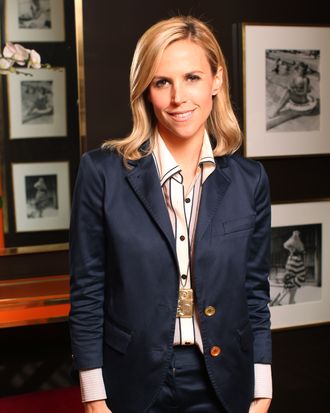 Tory Burch.
Photo: Thomas Iannaccone/Corbis
One month after Chris Burch sued ex-wife Tory Burch, her eponymous fashion label, and just about everyone in between for allegedly sabotaging his attempts to sell his 28.3 percent stake in Tory Burch LLC, among other things, Tory has officially countersued. This was expected, and everyone from Diane von Furstenberg to Anna Wintour has already spoken out on Tory's behalf. According to WWD:
Tory Burch denies all allegations and said in her filing that her ex-husband "only has himself to blame" for the fact that a potential sale of his shares fell through. Both Burches each own 28.3 percent of Tory Burch. The designer said that in creating C.Wonder, her former husband has competed "unfairly" and had "misappropriated confidential information" of her brand.
In a nutshell, Tory not only wants the claims against her dropped, but she's charging Chris with using inside information about her company — including manufacturing secrets and sales figures — to develop his own separate brand. Tory's counterclaims state that Chris "repeatedly asked for and was given full complete access to competitively sensitive information about the company and its best-selling products" during the two years before he opened C. Wonder, which is noted for its striking resemblance to Tory Burch's label. In legal terms, she's charging him with "breach of fiduciary duty, breach of contract, equitable relief, unfair competition, misappropriation of trade secrets and deceptive trade practices."
Tory obviously has industry bigwigs on her side, but judges won't be convinced by Anna's word alone. Ha! Totally kidding — of course they will. 
Related:
Tory Burch to Countersue Chris Burch, She Just Needs a Minute
Chris Burch Sues Tory Burch