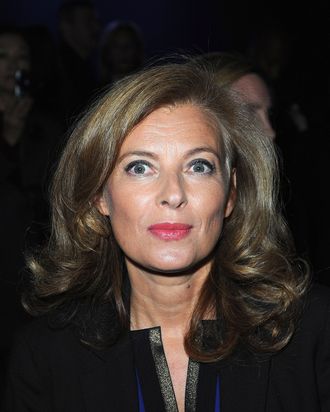 Photo: Pascal Le Segretain/Getty Images
Jacqueline Remy's new biography, Arnaud Lagardère, the Heir Who Wanted to Live His Life, contains several anecdotes about the Paris Match owner and his Employee of the Year, Valérie Trierweiler — French "first lady" and a longtime journalist for the weekly publication. And none of them are très sympa, beginning with the kind of great "unpinned grenade" visual. From the Telegraph:
Remy said she asked [Lagardère] whether having the French first lady as an employee was a benefit.

"Are you kidding?" he is quoted as replying. "Up until now, she's caused us nothing but trouble!"
Though Lagardère didn't plan to re-up Trierweiler's contract ("to avoid any conflict of interest" between her reporting and Elysée-ing), she still writes a literary column for Paris Match … paving the way for even more melodramatic insults. Yo, is there no French word for H.B.I.C.?