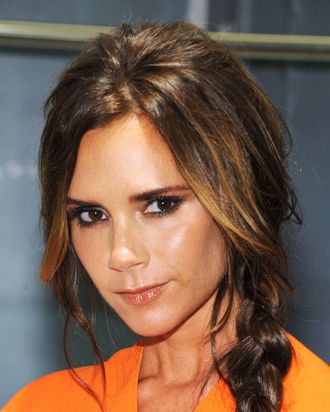 Photo: Jamie McCarthy/Getty Images
In a little less than a month — December 11, to be exact — Viva Forever! will open in London's West End. Also known as the Spice Girls Musical, it's also-also "the most anticipated musical of the decade," says the Sunday Times, which ran an article about the production in the paper's magazine. Judy Craymer, of Mamma Mia! fame, is producing the similarly punctuated play, and Jennifer Saunders (Godspeed) is responsible for the storyline.  
Craymer toyed with the concept as early as 2003, but Geri Halliwell didn't get back to her until … 2009.
In fact, the girls had wanted to do a musical for years. "It was an idea that was talked about all the time," says Halliwell, but Craymer hadn't been looking to do another jukebox musical (a term she hates). "I don't think people understand how these shows really work. I don't know if I really understand," she laughs, "but you couldn't just listen to a catalogue of songs on a Friday and have a show by Monday. You need a lot of time to make them work." She went round to Ginger Spice's for tea and was bamboozled — Halliwell was charming but persistent. "She wasn't going to let me out of the front door. You don't not commit to Geri." Unless you're one of her boyfriends, apparently.
Deeeee-amn, Sunday Times.
"More than anything, I listened to the songs, so I got the boundaries and structure. Then Geri would call from a ski lift or somewhere and we'd chat away. That was October, and by December I'd met Victoria. I took her and her mum, Jackie, to see Mel C in Blood Brothers." It turns out that Posh is much keener on Viva than her dour appearance at the press launch suggested. "When we opened Mamma Mia!, Victoria came about 18 times," says Craymer. "She told me she had always wanted to be the White Cat in Cats. I thought, if these girls hadn't become the Spice Girls, they would have been auditioning for West End shows."
Can you imagine? When asked if the Spice Girls are really friends today, Craymer replied, "We went out for dinner — Jen and I, Mel B, Mel C, Emma and Geri — and it was like squabbling sisters." Notice Victoria's absence. You know she was sitting in a director's chair in her basement, forcing David to be Old Deuteronomy and Harper, Grizabella.