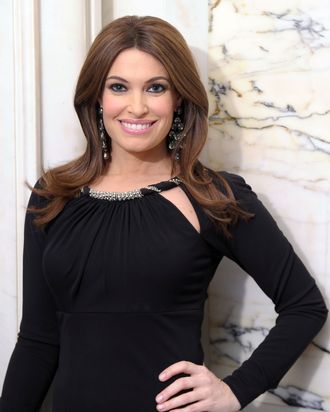 Kimberly Guilford, Fox Five host and former Victoria's Secret model.
Photo: Michael Loccisano/Getty Images
On Friday, a male listener called in to Fox radio show Kilmeade & Friends to say that commentator Alisyn Camerota, who was subbing for Gretchen Carlson, was doing a good job. Sensing an opportunity to make a terribly awkward joke about female Fox employees, host Brian Kilmeade said they source all their female staffers from Victoria's Secret:
It was actually, we go into the Victoria's Secret catalogue, and we said, 'Can any of these people talk?' And they all could and they all went to college. [Hear actual audio here.]
Blah blah sexist joke, what a pig, etc. But, ironically, let's not forget that Kimberly Guilfoyle, one of Fox's on-air "personalities," actually is a former Victoria's Secret model. Currently a co-host of The Five, Guilfoyle posed for Victoria's Secret to help pay her way through law school; she went on to become an assistant district attorney in San Francisco and L.A. (Sidenote: She was married to the former San Francisco mayor Democrat Gavin Newsom, who became the state's lieutenant governor after they divorced in 2005.) So, needless to say, she can talk and went to college. Not that Kilmeade's punch line really made any sense, anyway.