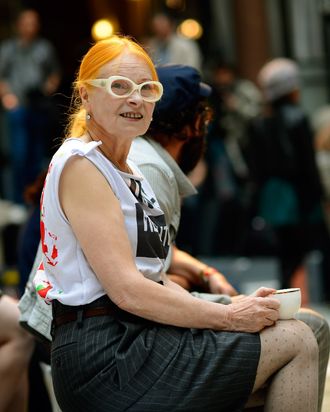 Photo: Gareth Cattermole/Getty Images
The Telegraph's Vicki Woods traveled to Paris to talk to Vivienne Westwood about her fine-jewelry designs made from the precious metal palladium, and, of course, climate change, her Climate Revolution initiative, her activeresistance.co.uk site, the environmental charity Cool Earth, etc., etc. But, as Woods writes:
Westwood speaks as she finds. There's a massive clarity in her discourse. She'd make the world's worst politician: it's all out there, open and en clair. (Tiny example: she tells me about her body hair, which is 'very fine. I've got nothing under my arms at all.' I've known women for 30 years who wouldn't tell me about their body hair.)
The Cut, on the other hand, regularly discusses body hair, so Wood's shock and awe must be a Cultural Difference.
Some other Vivelations (Viv-revelations): Despite being a dame, she does not carry a sword — "Not like being a knight. And the worst thing is … if you're a knight, your wife is a lady, and [my husband] Andreas [Kronthaler] would quite like to be something, wouldn't you, Andreas? But there's nothing" — and she wants "to learn to speak Chinese and practise Chinese calligraphy because I think it must hold the secret of the universe."