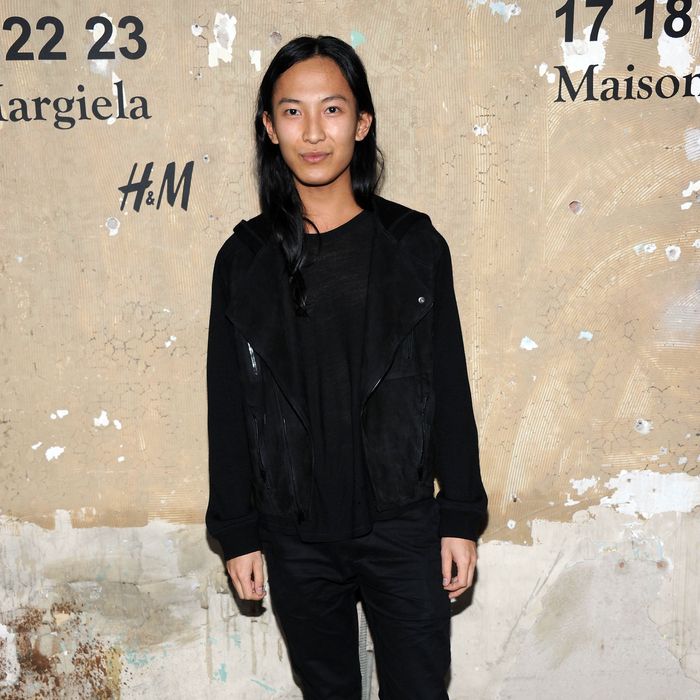 Alexander Wang.
Photo: Jamie McCarthy/Getty Images
Alexander Wang is all but confirmed as Balenciaga's new creative director, and reports say the brand will officially announce his appointment on Monday. The fashion world has now had a full day to process this news, which caught many off guard, and reactions have been cautious. No critic wants to pan Balenciaga's choice, but everyone agrees that it signals a new and surprising direction for the house. There's also been tactfully worded concern about whether Wang has the technical skill to design clothes at Balenciaga's level, which is decidedly more upmarket than his eponymous label. 
The takeaway from this surprising pairing is that Balenciaga wanted a big change. While the brand had grown eleven-fold since 2001, when it was bought by Gucci Group (now part of PPR), sales under previous designer Nicolas Ghesquière weren't great. Reports suggest that Ghesquière became frustrated with PPR's attempts to make the brand more commercial, which may have been one of the reasons why he left. And if anyone can make commercial clothing, it's Wang.
So what will the new Balenciaga look like? No one's quite sure, but a number of fashion folks weighed in today. Here are their thoughts:
Cathy Horyn, who's been quite critical of Wang's work in the past, hopes he won't make Balenciaga "mainstream" — the ultimate dirty word — but she's keeping an open mind. [On the Runway/NYT]
Hiring a contemporary-market designer doesn't necessarily indicate that Balenciaga and its parent, PPR, want to make the label more mainstream. In fact, that would be plain foolish, given its history and the glossy stores the company has recently opened. But I think Balenciaga has drifted in recent years, with too many different styles and prices that don't relate well (or at all) to what Mr. Ghesquière showed on the runway. The company needs to straighten that out…

I also don't want to rap Mr. Wang before he even starts at the big B. Although I haven't been a fan of some of his collections (he seems to try too hard, in my opinion), my immediate hope is that he sees this as an amazing opportunity and has fun. Be serious and respectful but, above all, surprise us.
Meanwhile, the FT's Vanessa Friedman thinks Balenciaga is hoping to target the contemporary market, particularly in China, where Wang has family connections. She finds this "sacrilegious." [FT]
He's a streetwear/contemporary market designer, known primarily for his cool T-shirts, trousers and bomber jackets. Yesterday, talking to a friend in town from Italy, Wang's name came up as a designer her 16-year-old loved. Doesn't seem to me 16-year-olds are Balenciaga's target customer.

So if he is the pick, that leads me to think that maybe PPR wants to change direction with Balenciaga, and go in for a more contemporary and less haute mode, so it can get into that lucrative market, which is growing in China… But to turn Balenciaga, with its storied history and rigorous design sense, into a jeans and tees brand seems almost, well, sacrilegious. I know fashion has a notoriously short memory, but still. Heritage matters.
Newsweek's Robin Givhan warns us not to underestimate Wang's ability to make everything look cooler than it really is. [Daily Beast]
What exactly would PPR, the parent company of Balenciaga, be getting with Wang– a designer whose most memorable garment is a T-shirt with just the right degree of slouch?

… Wang almost certainly would bring a broader commercial appeal to Balenciaga. He understands the familiar cool that has global recognition among young women who all listen to the same music, watch the same films, obsess about the same runway models and participate in the same technology. Under his own label, Wang is skilled at capturing a particular urban fantasy with blaring music and shadowy lighting, packaging it on beautifully nonchalant models and then selling it off piecemeal.

In the smoke and mirrors of the fashion world, Wang is an expert at sleight-of-hand. He has been selling customers the big shirts, tight dresses, leggings and windbreakers they already have. He just connects them to the idea of a cool girl in the midst of a late night of partying.
WWD's Miles Socha thinks Wang could help Balenciaga seem less elitist. [WWD]
The choice of Wang suggests Balenciaga might wish to dial down the elitist, couture-like approach of Ghesquière, and open up to a broader audience with a designer prized for his sportswear approach and youthful energy.
And finally, Harry Brant can get a good night's sleep. [Twitter]
All hail Alexander Wang! New creative director of Balenciaga! ! #I can finally sleep again knowing the brand is in good hands
Now you've got all weekend to think about this, and by the time the Big News finally happens next week, it'll already seem old.