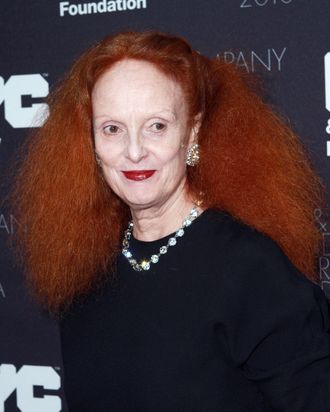 Grace Coddington.
Photo: Donna Ward/Corbis
Grace Coddington has been making the rounds to promote her new memoir, Grace, which comes out tomorrow. While the book is dishy, with detailed accounts of Coddington's various boyfriends and the nude photo shoots she did as a young model, it's not so gossipy as to include anything really juicy on you know who. And don't think Coddington will be suckered into saying anything during interviews, either. "They gave me media training," she explained to the Times, adding, "I was a total failure." (Rule No. 1 when it comes to interviews: be funny and self-deprecating, and make it seem like you'll say anything, even though you won't.) Based on the two profiles that ran this weekend in the Times and the Telegraph, respectively, here's what else we can assume she gathered from those training sessions:
1. Swearing is generally against the rules, but when you're an elegant 71-year-old lady, it's totally endearing. "They were like, 'Oh, can't say that, oh, you can't say that, and it's not politically correct to say that, and don't swear.' But I swear like a trooper."
2. Say nice things about Anna Wintour, and then worry she'll get mad anyway. Coddington tells the Telegraph about sending Wintour a copy of the manuscript:
Oh my God, I was nervous, of course I was. Because she and I are very entwined - and I was nervous that I had said too much about her, from her point of view. But I was also nervous that she would think it wasn't well written or not well laid out. But she wrote me a really long letter saying she loved it and that was a big relief. She trusts me. I don't have anything horrible to say about her anyway, and I know everyone out there is probably hoping I get really nasty about her. A) I wouldn't, and B) I don't have anything bad to say. She's my boss and you have to respect that she makes the magazine what it is, and we all contribute. Ultimately it's her show.
3. Express disinterest, or even dismay, at your own celebrity. "They think I'm everybody's property … You're like public domain. And I think that's disgusting."
4. But don't be too snobbish about it. "I'm having fun being recognized. It's not as though I'm a rock star where people are very aggressive. I guess I'm too old to lead a really exciting life."
5. When in doubt, talk about your cats. She even impersonates her cat Pumpkin, the muse of her new Balenciaga capsule collection: "Pumpkin, she's so famous! Well, she's getting a little spoilt; she's like, 'Do we have to drive in that car? Couldn't we have a limousine?'"
6. Don't be afraid to show your human side. During her interview with the Times, Coddington gets spinach stuck in her teeth. She also complains about her weight.
7. It's cool to name-drop people from your past, but tacky to name-drop people you saw last week. Recalling her visit to the Carlyle after Hurricane Sandy, where she took a bath in Nicolas Ghesquière's hotel room, she told the Times, "There was a whole scene there: every fashion person, every wannabe. I could name a few names." And then she doesn't.