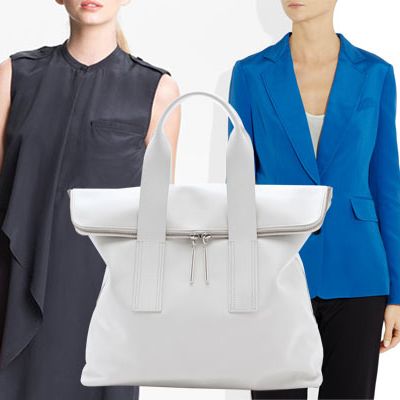 The first thing to know about the Phillip Lim sample sale is that it's hard to find. Supposedly it's at 304 Hudson Street, but you have to actually go behind the building, take a freight elevator up, and walk through what looks to be a kitchen, just to get to the coat-check room. Then you arrive at the sample-sale floor, which isn't all that organized. Shoes and bags line the front wall, and toward the back (near the menswear), you'll find another table of accessories, including belts, gloves, wallets, and sunglasses. Our recommendation? Hit that table first. We found fur-and-cashmere gloves ($100), fur-and-pony-hair belts ($50), and colorful wallets for $150.
The clothes were semi-organized with skirts and pants in the front racks, shirts and dresses in the middle, and sweaters and tops near the back — for the most part. We found one top we liked in three different places, so if you don't see your size, it could be hiding somewhere else. A lot of the clothes are true samples — which means they don't have sizes at all — so you just have to guess, or try it on over your clothes in one of the two mirrors (there are no dressing rooms). There is a huge selection of clothes, and though they're not cheap — prices pretty much start at $100 — most everyone will find something they want need here. There are neutral-colored knits, tailored wool pants, patterned blazers, fur cardigans, sequined tops, office-appropriate skirts, shift dresses, and more. The only people who need not rush over immediately are men, as the menswear selection was small and probably not worth the prices.
The bags and shoes will be the first to go. There's a big shelf of shoes in one corner, along with a few stacked boxes. The Cody heels ($100) are the most abundant, but going fast, and they looked to be either photo or runway samples, as there was some wear and tear. We spotted them in pink and grey snakeskin as well as a jewel-encrusted silver metallic. There were also a decent amount of his wedge and creeper styles, but sizes were limited for all.
As we were leaving, someone was walking out with the croc-effect leather tote ($400), which looked to be the only one, unless they are planning on replenishing. We did see a few 31 hour Weekender bags (also $400), but those were nearly gone by the time we left. So if you're interested in bags or shoes, get there early tomorrow, when the sale opens to the public.
3.1 Phillip Lim sample sale: 304 Hudson Street, eighth floor north (use freight entrance on north side of Spring between Hudson and Varick); Thursday, Nov. 15, and Friday, Nov. 16, from 10 a.m. to 7 p.m.
Womens
Woven Tops/Shirts
Long Sleeve: $150
Embroidered/Woven: $150
Short Sleeve, Sleeveless, Tanks: $100

T-Shirts
Long Sleeve, Short Sleeve, Tanks: $50

Sweaters
Embellished/Embroidered: $250
Cashmere: $200
All Other: $150

Bottoms
Leather or Sequin Skirt/Pants: $200
Wool, Casual, Silk, or Pleated Skirts: $100
Pants/Jeans/Shorts: $75

Dresses
Embellished/Embroidered/Sequin Dress: $400
Evening Gown: $400
Cocktail Dress: $300
Sweater Dress (Cashmere): $200
Sweater Dress (Wool), T-Shirt Dress, Day Dress: $150

Outerwear
Shearling Coats: $800
Fur Coats With Jewels: $600
Fur Coats Without Jewels: $500
Leather Jacket: $450
Fur Vests: $300 to $350
Coats: $300
Trench Coats: $200
Jackets: $175

Accessories:
Large Bags: $400
Medium Bags: $300
Small Bags: $150
Clutches: $150
Shoes: $100
Belts: $50
Necklaces: $50
Scarves: $75
Fur Scarves: $150
Gloves: $50
Fur Gloves: $100
Sunglasses $75

Mens:
Outerwear
Leather/Suede/Patent: $400
Trench Coats: $300
Wool Jackets: $250
Cotton Jackets: $200
Denim Jackets: $150

Bottoms
Pants or Jeans: $75
Shorts: $50

Tops
Woven Tops/Shirts: $100

Sweaters
Cashmere Sweaters/Cardigans: $200
Merino Wool, Cotton/Linen: $150

T-Shirts
Long or Short Sleeve, Tank: $50