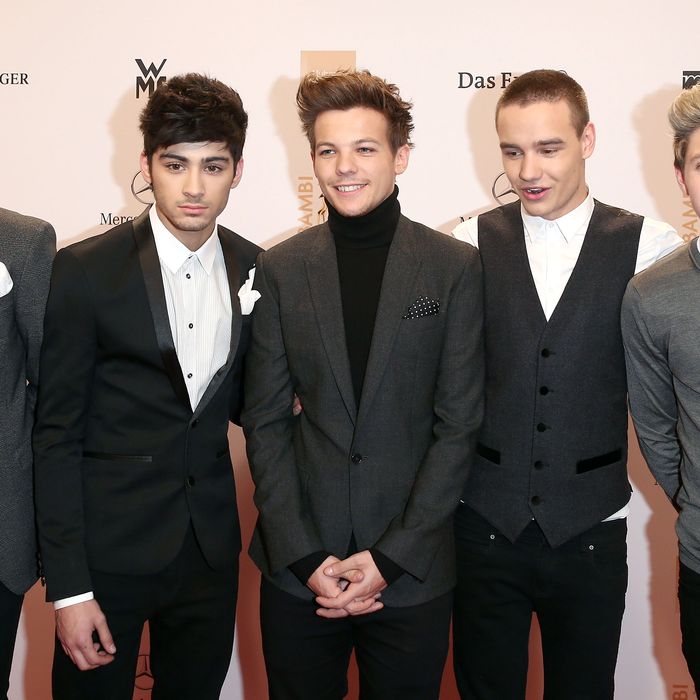 Sniff sniff.
Photo: Andreas Rentz/Getty Images
It was only a matter of time before One Direction, that boy band from the U.K. that's basically a group version of Justin Bieber (minus the droopy drawers), took the next step in their branding process and popped out a fragrance. Set to come out in fall 2013, reports WWD, there's no information on the scent's title or what it will smell like, so we're left to comb through their song lyrics for clues.
Surprisingly, there are no references to scent in any of their music, but we've done our best to draw inferences where possible.
Perhaps it will smell like something edible to induce salivating, as referenced in "Kiss You":
Oh, I just wanna show you off to all of my friends
Making them drool down their chinny-chin-chins
But on the plus side, you won't need to wear makeup when you have it on, according to "What Makes You Beautiful":
Don't need makeup,
To cover up,
Being the way that you are is enough
Maybe it'll have top notes of Katy Perry's perfume, Purr, as she's name-dropped in "Up All Night":
Katy Perry's on replay
She's on replay
D.J. got the floor to shake, the floor to shake
People going all the way
Yeah, all the way
I'm still wide awake
Perhaps it's meant to be applied to your love handles, which are serenaded in "Little Things":
You've never loved
Your stomach or your thighs,
The dimples in your back at the bottom of your spine
But I'll love them endlessly
But who knows, really? All we can hope for is that it won't come in dog-tag or ice-cream form.