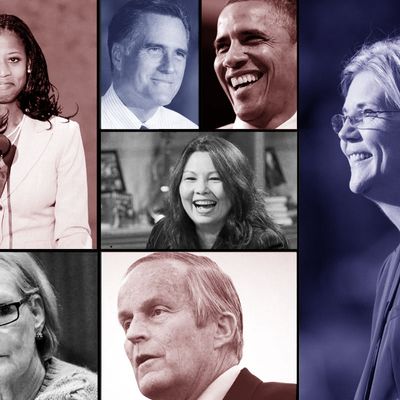 Ladies, congrats on being coveted. Both presidential campaigns and most pundits agree that women are some of the most sought-after voters in this election. But for all the shout-outs to the ailing grandmothers and hardworking moms of America, it's not totally clear what's at stake for women in 2012. We might all agree that women are an important voting bloc, but there's little consensus on which issues and priorities we collectively care about.

Still, the lack of analysis on what women stand to lose (or gain) on November 6 has been pretty surprising. NARAL tracks reproductive-rights votes, Emily's List points the way to strong female candidates, and NOW offers a compare-contrast between Romney and Obama. But what about the big picture? If candidates at all levels are trying to appeal to women, what's in it for us? How will the 2012 election affect the way we reproduce (or not), the way our workplaces accommodate us, and who are role models are? From ballot initiatives to campaign flashpoints to the potential shifts in overall gender representation in Congress, let's break it down. Because even the most politically engaged women could use a crib sheet for 2012.
Women Candidates
In the last midterm election, the number of women in Congress dropped to 17 percent. But 2012 is a unique opportunity for women candidates. After the 2010 Census, districts were redrawn. And according to the Center for American Women in Politics at Rutgers University, this tends to create more open seats — and women have historically been more successful in races in which there's no incumbent. In all races this year, 18 women (12 Democrats and 6 Republicans) are running for Senate; 163 (116 Democrats and 47 Republicans) are running for House seats. Only one woman is on the ballot for governor, Maggie Hassan in New Hampshire.

Some Democratic newcomers to watch include Christie Vilsack, who would be Iowa's first female member of Congress; consumer-rights advocate Elizabeth Warren, who's neck-and-neck with Scott Brown in Massachusetts's Senate race; disabled veteran Tammy Duckworth, leading in the polls for her Illinois House race; Arizona social worker Krysten Sinema, who has a slight lead in her House race; and Val Demings, a former Orlando police chief challenging a tea partier for one of the most hotly contested seats in Florida. Proof of the theory that open seats are better for female candidates, Democrat Mazie Hirono is challenging the state's current governor, Republican Linda Lingle, for Hawaii's first open Senate seat in 30 years — a race that's drawn a lot of attention and money from the mainland. Also in Hawaii, Iraq War vet Tulsi Gabbard hopes to become the country's first Hindu representative.
On the other side of the aisle, Utah's Mia Love, a black conservative Mormon candidate, would be the first black woman elected to Congress as a Republican. While she does not support policies broadly appealing to women or people of color, Love is certainly one to watch. After all, we're never going to reach gender parity in Congress without some conservative women winning elections, too.

Candidates like Love and Lingle illustrate how tricky it can be to figure out where women's electoral interests lie: Should we care more about voting for candidates who look like us, or should we be more interested in the policies they endorse? The last time most of us really grappled with this issue was in the 2008 election, a thorny mess of gender and race issues. Back then, shortly after Sarah Palin was added to the GOP ticket, I quipped that "a woman candidate is not the same thing as a woman's candidate," and while I am outraged that women are a paltry 17 percent of Congress, I'm more concerned about the policy outcomes than I am about the gender of those voting on them.

Of course, it's not either/or. There are some female incumbents who have been tireless advocates for women's rights, and several are on the ballot this year. Real-talkers Representative Louise Slaughter (D-NY), Representative Carol Shea-Porter (D-NH), and Senator Kirsten Gillibrand (D-NY), are up for reelection. Meanwhile, Senate hopeful Tammy Baldwin is sort of an anti–Paul Ryan: an openly gay U.S. congresswoman from Wisconsin who's been a vocal advocate for the working class. Missouri Democratic Senator Claire McCaskill is locked in a surprisingly tight reelection race against Todd "Legitimate Rape" Akin. How depressing is it that these two candidates are tied? Which brings us to …

The Bad Guys
In 2012, there's been seemingly no end to the parade of gray-haired Republican men issuing declarations about how and why women should be able to get an abortion. The aforementioned Akin, who's gunning to represent Missouri in the Senate, would vote to ban abortion even in cases of rape and incest. His ideological brethren, Richard Mourdock of Indiana, came under attack for alleging that pregnancies resulting from rape are what God intended. Tom Smith, a Republican senatorial candidate from Pennsylvania, pleaded with voters to consider the father — even when the father is, in fact, a rapist. Smith is highly educated compared to Iowa Representative Steve King, who has apparently "never heard" of a woman getting pregnant as a result of rape or incest.

These aren't just campaign-trail gaffes; their comments have legislative consequences. King, Akin, and GOP vice-presidential candidate Paul Ryan co-sponsored a bill last year that would have redefined rape to allow federal funding for abortions only in the case of "forcible rape." These men and their cohorts were among the backers of a bill to completely defund Planned Parenthood. That bill's namesake, Representative Mike Pence, is now the front-runner candidate for governor of Indiana.

The Ballot Initiatives
Voters in several states will also get to answer some questions directly about how much they care about women's right to make decisions about their bodies. The most draconian are measures in Florida that would amend the state constitution to remove the right to privacy — and therefore strip women of their right to choose. This measure is laying the groundwork for a direct challenge to Roe. In Montana, voters will decide whether to make parental involvement mandatory before women under 18 can get an abortion. New Jersey voters are considering a similar measure, along with another initiative that would prevent women with state health insurance (basically, low-income women and state employees) from using their plan to pay for an abortion except in cases of rape, incest, or when their lives are in danger.

And when it comes to making the rights and privileges of marriage available to all couples, voters in four states will weigh in. A Washington state ballot initiative seeks approval for a marriage equality bill already signed by Governor Christine Gregoire. In Maryland, a marriage-equality law will be put to voter referendum. In Maine, opponents of gay marriage are asking voters to limit same-sex couples to domestic partnerships. And Minnesotans will also consider a law that would amend the state constitution to ban same-sex couples from marrying. Polls suggest that of these four states, Maine seems the most likely to grant marriage rights to all couples.

The Presidential Race
Even if you've been paying scant attention to the campaign, you've probably got at least a passing sense of where the candidates at the top of the ticket stand on women's issues. Obama is pro-choice and has fought to keep reproductive health coverage in health-care reform. Mitt Romney is against abortion rights and would restrict access to contraception. This year's GOP platform would ban abortion, even in cases of rape, incest, and to save the woman's life. One committee member called it "the most conservative platform in modern history."

Obama's first act as president was to sign the Lilly Ledbetter Fair Pay Act. Romney may have done the right thing by referencing a binder full of qualified women appointees, but he has declined to comment on whether women have a right to equal pay for equal work. Romney has also dodged questions about whether he would support strengthening the Violence Against Women Act. Obama has come out in favor of equal marriage rights for all. Romney, who once supported the repeal of Don't Ask Don't Tell, now says it has "worked well" and opposes same-sex marriage and civil unions.

The Long View
Winning the White House isn't everything. But observers of the way politics really works in D.C. tend to subscribe to the theory that party trumps candidate. In other words, even in cases where the Democratic candidate doesn't feel all that more pro-woman than his Republican opponent, we should all feel comfortable voting for the lesser of two evils. Even a "moderate" whose views we abhor, the theory goes, will empower Democrats to hold (or gain) a majority, and therefore lead to better committee leaders and judicial appointments. Still, there are consequences to voting this way. Even in the Senate, where Democrats currently have a majority, NARAL counts 46 anti-choice senators (and only 40 pro-choice; 14 have a mixed record). In the Republican-controlled House, the pro-choice headcount is even worse, with 247 anti-choice representatives and only 143 who care about women's rights.

And beyond the fight over abortion rights, there are some issues of unique importance to women that never quite seem to rise up the legislative priority list. While the Democrats' commitment to passing equal-pay legislation was inspiring in 2009, the issue of easing the burden on working parents — with the knowledge that women bear the brunt of the child-care burden — has failed to be a legislative priority. Paid parental leave is a political nonstarter. Last year, a bill that would have provided paid family leave to federal employees passed the House but failed to make it through the Senate.

Women legislators have been known to cross party lines to support legislation on issues that go beyond reproductive rights, and it is perhaps for this reason more than any other that women voters ought to take female candidates seriously. Because once the votes are counted and the initiatives go into effect and women are no longer a political bargaining chip, we have to deal with the consequences — not just the day after the election, but every single day.