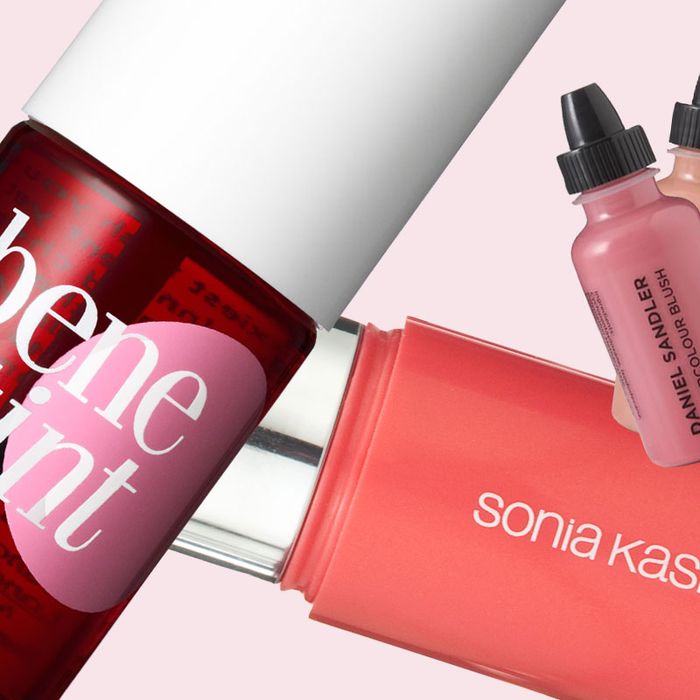 Women have used some form of blush for thousands of years. The Egyptians crushed beets and swiped the juice across their cheeks and lips. The Victorians, discouraged from using makeup, pinched their faces to achieve the rosy hue of youth. I love blush because it masks my perpetual lack of sleep and hides my natural blotchiness, but I hate to look like I'm obviously wearing blush. I prefer tints that blend seamlessly and provide those coveted "apple cheeks" I don't have on my own. As a longtime user of various powders and creams, I've avoided liquid blush because of its "difficult" reputation. When I asked beauty counter salespeople, they warned me that you have to work fast with liquids, otherwise they dry like pink dots on your face, something that only works if your name is Lynn Yaeger. Applying the right amount correctly makes you look like you took a brisk walk. Too much and you look like you mixed your meds.
Convinced there was a product out there I could master, I tested several brands over the course of three weeks. I searched for the most subtle color for daytime, examining staying power and ease of application. Almost all of the brands come in multiple shades, so rather than focus on specific colors, I judged texture, consistency, and sparkle. The best ones resembled something the Egyptians themselves would have liked, but thankfully, stained my hands less than beet juice ever would.
Not recommended:
Guerlain Terracotta Sun Shimmer Highlighter in Sunny Pink ($41)
A small test on the back of my hand revealed that this blush dries especially fast. The peachy color absorbs nicely once blended, but you are left with a trace of too many gold sparkles. Not my thing. I reluctantly tried it on my face and found I liked it even less. The heavy scent, which was Coppertone-esque, is also a drawback.
Obsessive Compulsive Cosmetics Skin ($25)
I'm not sure this can be applied with fingers because it's very runny, though I tried. A brush would have been preferable. The color looked quite natural. And if you have oilier skin, this might blend better for you. On my combination-dry skin, however, the overly pigmented liquid was too drippy, instantly drying back to a chalky stain that was impossible to work with. 
Giorgio Armani Blushing Fabric Second Skin Blush ($39)
Very bright and much too sparkly/golden for my taste. Squeezing the tube felt like using super-saturated watercolor paints — the tiniest drop was enough to cover a lot of surface area. If you try this one, proceed slowly, building color as you go. Otherwise you'll look too flushed.
By Terry Rose de Rose Sheer Liquid Blush in Corail Rose ($58)
Though it goes on perfectly smooth and is relatively easy to apply, the effect in daylight is very illuminizing, making it too obvious you have blush on. A full press of the bottle pumped out way more product than you would want to apply on both cheeks combined. I adore this brand, usually, but save your money and buy one of their lipsticks or foundation instead, which are worth every penny.
Recommended with reservations:
Nars Illuminator in Orgasm ($30)
The king of powder blushes, Nars's "Orgasm" scores five stars and has nearly 12,000 positive reviews on Sephora. The Rapper Drake even mentioned it in his song "Fancy." While I have used the powder and know that it lives up to the claim of being "universally flattering," the liquid version was more bronze than pink, with an off-the-charts sparkle factor. It was, however, the easiest to apply of all the liquid blushes I tested, with a forgiving amount of time to rub it in. I would buy this and apply for a night out when I need that extra touch of disco.
Sonia Kashuk Super Sheer Liquid Tint in Poppy ($9.79)
The bright, girlish, pink gel blended in smoothly with no obvious glitter at first; as it dried, it went very golden. I liked it, but when I saw my husband, he said, "Did you just put on blush?" Anathema. 
Recommended:
Make Up Forever HD Microfinish Blush ($26)
With so much pigment, a little goes a very long way. Dot a speck, blend in, dot again. If you can master the application, you will have a sparkle-free, super-athletic ruddiness that allows natural freckles to come through. But it took me several tries to figure out just how much of this blush to use (a drop the size of about a half a grain of rice) and it isn't for beginners.
Benefit Benetint ($29) and Posie Tint ($29)
Benetint has over 1,800 reviews on Makeup Alley, almost all overwhelmingly positive. The main detractor is the teeny-bopper bottle, which looks like it would have nail polish inside, complete with small brush applicator. The dark liquid resembles thin raspberry food coloring. Don't let that deter you. This true "stain" goes on completely sheer and lasts for hours. Take the brush and barely dot one cheek with three or four drops. Blend quickly and go to the other cheek. Use it on lips under a bit of Vaseline if you're not feeling lipstick. I also loved Posie Tint, the milkier little sister of the popular old standby. The product is brighter, and more of a gel than Benetint, but the results are a proper flush that few would ever guess came from a bottle.
All-around favorite:
Daniel Sandler Watercolour Fluid Blusher ($23)
Something about the thinness of this blush, plus the number of subtle shade variations available, makes it feel like a product you might see backstage at a photo shoot in a professional kit. The bottle says to squeeze out a small drop on the back of your hand and apply with fingertips or a brush. Both worked well. The silicone-based shades go on so sheer, dry immediately, and last all day, but you can still blend them easily upon application. I preferred a pink-ish color called "Cherub," which gave me a perfect bit of flush, and a nude called "Truth" with a subtle, silvery shimmer (even good for daytime!). Here, at last, was the product with just the right amount of sparkle and tone. It's even worth having in several colors, especially during the party season.