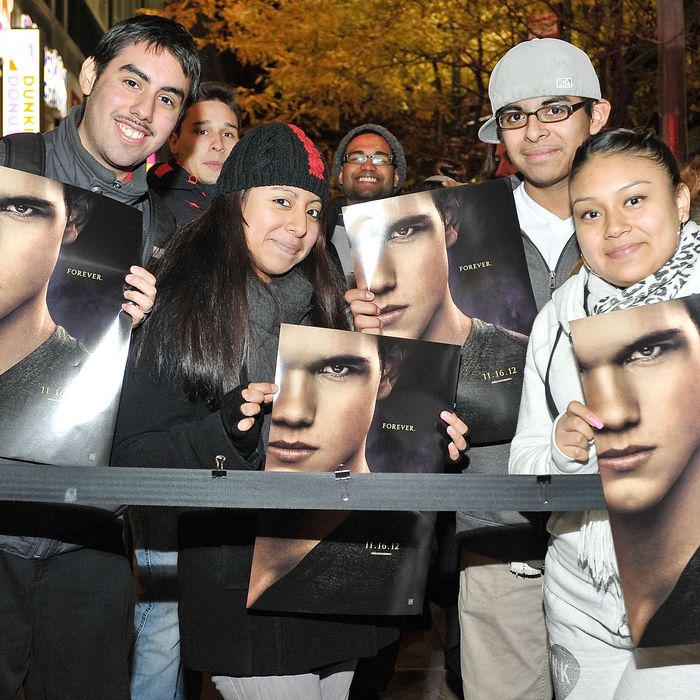 Photo: Daniel Zuchnik/Getty Images
Opening-weekend sales for The Twilight Saga: Breaking Dawn - Part 2 fell short of box-office records, but the last gasp of the abstinence-advocating Robsten vehicle did prove groundbreaking in another respect: 21 percent of the audience was male, a franchise record. Studio executives say it's because it was pitched as an action movie with a blowout battle-scene climax. "The male audience has increased a good bit, and the ratings among males are higher I think in part due to the action in the film," Summit Entertainment president of domestic distribution Richie Fay told Reuters.
With all due respect, we doubt it. 
If men wanted to see an action movie, they could see an action movie. It's more likely that Skyfall was sold out. Or that they confused Twilight with the sexier, more action-packed True Blood. (Or even Vampire Diaries, for that matter.)
Maybe men turned out for the conclusion of the Fifty Shades of Grey–inspiring series out of romantic opportunism, having heard how "worked up" its female audiences get. (Their mistake — the sexual tension ended two movies ago.) Or, in the wake of their guy Mitt Romney's loss, they're interpreting all his actions, including seeing Breaking Dawn - Part 2 with wife Ann, as implicit instructions for a secret plot to save America.
It's possible they simply see franchise heroine Kristen Stewart in a different light these days, ever since that "momentary indiscretion" with Rupert Sanders. Like maybe a Hollywood star like her would give older, balding guys like them the time of day. (In this installment, Stewart trades her coy lip-biting for "schmexy faces!" ) Twilight's male audiences are certainly aware of co-star Ashley Greene's existence by now, thanks to the dogged advocacy of lad mags like Esquire and Maxim.
And let's not rule out the possibility that men's late arrival to the tween phenomenon is biological. After all, men develop later than women. Remember how the girls towered over the boys at middle-school dances? Maybe it's the same thing with movie franchises.
Welcome, dudes!