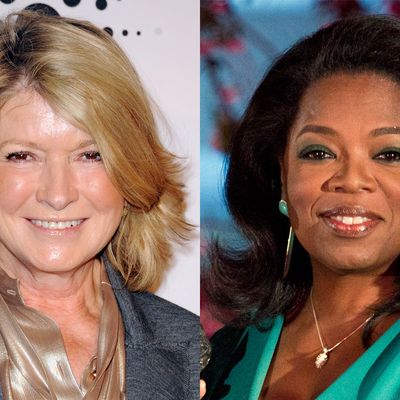 Over the weekend, the New York Times published dueling articles about the doyennes of nineties daytime television, Martha Stewart and Oprah Winfrey. Both women broke glass ceilings by leveraging their personalities into media empires, but their businesses are suffering in today's fractured media landscape. Still, one of the self-made moguls has crossed the generation gap, capturing the admiration of millennials whose mothers (and — sure, why not? — fathers) built their empires. 
While O: The Oprah Winfrey Magazine struggles to attract younger readers with articles about "how tea helps lower blood pressure" and "how to talk to a doctor about medical history," the Times reports that Stewart has become the "patron saint of twenty- and thirty-somethings who, in a post-recessionary world, have begun their own pickling, cupcake, and letterpress businesses and are selling crafty goods online." Her website experienced a 40 percent traffic jump among the Etsy generation and now occupies what Martha Stewart Living editor Pilar Guzman called "the intersection between Colonial Williamsburg and Williamsburg, Brooklyn."
It is a little surprising that a generation so blithely committed to social-media oversharing would turn its back on Oprah, the queen of disclosure who told us about her yo-yo diets, her secret half-sister, and her S-shaped fecal matter. Indeed, Oprah's booking parade of celebrities and normal people, side-by-side, offering up some insipidly inspirational revelation ("some psychic scar de rigeur," as Tina Brown put it) is an obvious precursor for millennial media like, say, xoJane. In 2012, we may now simply be saturated with overshares. And any expert of the form would have cringed when they read that Oprah revealed a recent breast cancer scare to best friend Gayle King in front of a live audience. It wasn't public-sharing best practices.
But while Winfrey gets beat at her own earnestness game, Stewart has safely crossed the irony threshold. In the bold comeback show that followed her return from Alderson Federal Prison Camp (a.k.a "Yale"), Stewart offered herself up as a straight man to be lightly skewered by much cooler guests like Conan O'Brien, Seth Meyers, Snoop Dog, and Danny Bowien. Meanwhile, all Good Things that predate Stewart's prison sentence now seem fashionably nineties.
Crucially, and like all of Gen-Y's ironic interests, Stewart is basically uninterested in them or their tattoos. With Winfrey, who once crassly begged on Twitter for Nielsen families to flip to her OWN network, you get the feeling that if someone told her that twentysomethings love tattoos, she would devote a prime-time special to it. Our tattoos, ourselves. But Martha? She tells the New York Times that she's "not a big fan of tattoos." Not because they're ugly or meaningless, but because the motifs we ink ourselves with look better embroidered on a jacket or silk-screened on a T-shirt. And she's right.
Unfortunately, as equity research analyst David Bank told the Times, Stewart's generational crossover appeal isn't much use unless millennials all go out and buy her branded bedsheets and flatware, which is unlikely because there is no Macy's or J.C. Penney in North Brooklyn. "Who cares if she's popular if you can't monetize it?" Bank mused. It's a problem likely to resonate with Stewart's young, pickling, and Etsy-ing fans, who are rich in Twitter followers and little else. Maybe she could try Kickstarter?