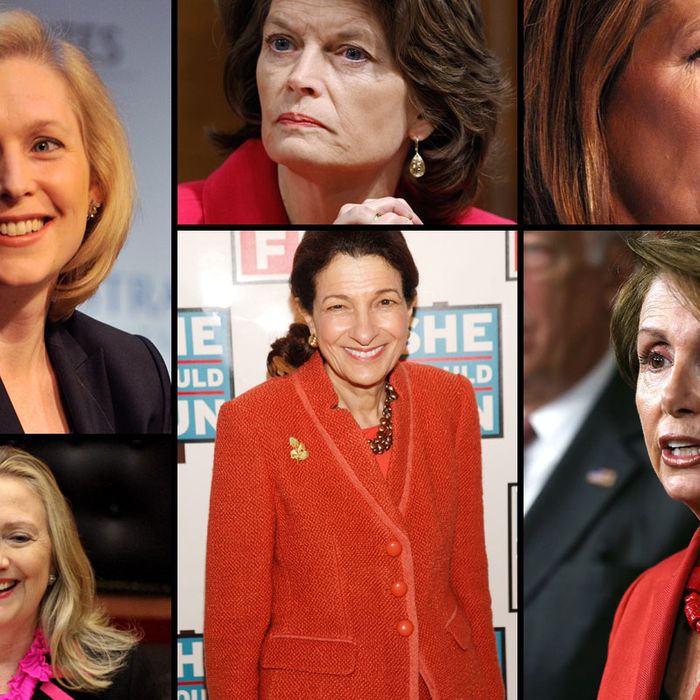 On a certain level, gender parity in government is an issue of democratic legitimacy: Women are a majority of the American electorate, and yet we have less female representation in government than most of the planet. (In a recent United Nations study of proportional gender representation in government, the U.S. ranked 78th, tied with Turkmenistan.) But according to Senator Kirsten Gillibrand — who has campaigned heavily for other female candidates in this election cycle and is likely to win reelection against a female opponent — the lack of skirts in the Senate is more than a symbolic concern. "My own experience in Congress is when women are on committees and at hearings, the nature of the discussion is different, and the outcomes are better — we reach better solutions, better decisions are made," she said a year ago. But in this election, with only eighteen women competing for seats, there's hardly going to be a longer line at the Senate gallery's ladies room; the House race is more optimistic, with 163 women on the ticket.
You might not know it from the reductive memes on your feminist Facebook friends' newsfeeds, but political scientists have proved women's extraordinary efficacy in federal and state legislatures. Across the board, findings show that the second sex rates first when it comes to effective governance. Women in office secure almost 10 percent more federal funding than their male colleagues and introduce about twice as many bills.
But do these wonder women really make "better decisions," à la Gillibrand's claim? The conventional wisdom is that women in Congress practice what's known as "surrogate representation," introducing so-called "women's issues" bills regardless of home district relevance, feeling a responsibility to aid women in cities, say, even if they call farmland home. As Senator Barbara Boxer has said, "There are still so few women in Congress, you really do have to represent much more than your own state," adding, "Women from all over the country really do follow what you do and rely on you to speak out for them." This sentiment is how political scientists understand why women cultivate such diverse and substantial legislative portfolios, especially when compared to their male colleagues. It's also why all women candidates, at least among Democrats, have the potential to be so-called "women's candidates." (There is, of course, a spectrum — I'm not overjoyed with Gillibrand's own feminism myself, for example, but lately I'll take what I can get.)
But defining what constitutes a "women's issue" can be tricky. For a forthcoming paper on female lawmakers' effectiveness, three political scientists crunched all 138,246 bills introduced in the U.S. House of Representatives over the past four decades. They found women introduced twice as many bills on civil rights and liberties bills; many more on "family" concerns; and significantly more on labor, immigration, education, and health. In other words, it's about much more than who is paying for my birth control. They note that despite a century of discussion about health-care policy, it took a female speaker of the House to make universal health care happen. Or as Nancy Pelosi herself has said, "It's personal for women … my sisters here in the Congress, this was a big issue for us."
All this may seem like a function of liberalism, but it turns out that gender is a better predictor for these issues than partisanship. When a female senator replaces a male senator, there is a significant increase in support for women's issues, or so political scientist Brian Frederick at Bridgewater State found when examining roll-call voting. "Women and men who represent the same states vote differently when it comes to women's issues," he says. "It's not a function of representing more liberal constituencies." Most women in office are Democrats, and as Frederick points out, when they show up for their first day of work on Congress, "active feminists are there to greet you."
The bad news, though, is how rarely female initiatives turn into reality. Women's-issues bills are the ones that see the highest gridlock rates. Overall, only 4 percent of bills become law (I, too, am singing Schoolhouse Rock! in my head, but bear with me), but a mere 2 percent of women's bills ever make it through the process, like Lilly Ledbetter did. That's only 1 in 50. "These are issues that the average member of Congress doesn't see as crucial," the University of Virginia's Craig Volden, an author of the forthcoming paper, told me, underscoring a very real aspect of our democratic legitimacy problem.
But that's where critical mass comes into play. In order to understand what proportion of women in office are needed to bust that gridlock, we have to look at comparative studies on other countries, since we've never come even halfway to achieving equal representation here. The literature tends to agree that when more than 20 percent of a legislature is female, sisters can do it for themselves. Without it, there's simply no deference. "If we can only get the female numbers up to 25 percent, I'd be having a party in the streets," quipped Colorado College's Dana Wittmer, another author of the forthcoming female-effectiveness paper.
And yet women were still twice as likely as men to say they weren't qualified to run and half as likely to be recruited by a party leader. Jennifer Lawless, who heads up American University's Women and Politics Center — and ran for Senate herself in 2006 — surveyed 4,000 people in political pipeline professions to understand self-selection and support for potential candidates in 2001. She repeated the survey last year and found that there was no improvement — not by a percentage point — over the decade, a decade that saw Hillary Clinton's presidential candidacy and Nancy Pelosi wield the speaker's gavel. "The good news is it's not about the voters or systemic bias against female candidates," Lawless told me. In other words, the problem is not that women can't get elected when they run, it's that women aren't running.
When you look at the rest of the world, this crisis of confidence is madness. Five of Latin America's current heads are women. For two decades, Argentina has maintained a quota of 30 percent female representation. Granted, Latin America is hardly a hotbed of gyno-liberalism; most of these female leaders are anti-abortion, line-toting Catholics. So let's consider Europe, where women's organizations met in Strasbourg this week to organize toward 50-50 parity in the next election, as the continent's one-third representation is considered an outrage. It's a poignant irony that when the United States helps fledgling governments outline their democracies and develop their constitutions, we emphasize the importance of full female inclusion in government; there's a reason that, despite a close adherence to Islamic sharia, Iraq ranks about 40 slots before us on the U.N. list.  
Based on who is on the ticket this year, 2012 has no chance to be our next Year of the Woman. Gillibrand recently said, "If we had 50 percent of women in Congress, we would not be debating contraception. We would be debating the economy, small business, jobs, national security, everything but." In this election, she might as well be talking about the existence of unicorns. If we could get even half that number, we might be twice as effectively governed. That's not about girl power or some braless, bell-bottomed anachronism, that's about progress for all of us.
Broadminded is a weekly column about gender and women's issues, written in alternately by Alissa Quart and Lauren Sandler.