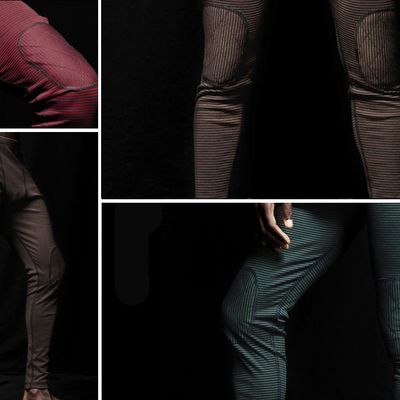 John Bartlett's New "Football-Inspired" Leggings
Photo: John Bartlett
Justin Bieber wears them. Lenny Kravitz pairs his with platform boots. Russell Brand likes them. And a quick perusal of runways and retail racks — from luxe ones like Givenchy and John Bartlett to cheaper options at Uniqlo — means your boyfriend (or, maybe, gay friend) may be trying them out sometime soon. For evidence, look no further than Men Wearing Tights With Shorts, which offers a glut of model shots from Prada, Nike, and Urban Outfitters.
They're not really tights, though. They're meggings. Once the joke of Paris runway shows and street-style blogs, the hip-hugging garments that women have been wearing as pants for years are hitting the mainstream as the latest garment a man chooses when he wants to peacock. Fedoras, giant scarves, and leather kilts: Your end is nigh.
"Guys have been wearing slimmer and slimmer pants in the last few years, so the natural progression is to move to the man legging," says Patrick Jones, a rep for Uniqlo, which offers its own brand of "made for all" meggings. The company technically lists the item as long johns, designed to be worn under pants. That doesn't stop customers — first in Japan and Korea, now in America — from wearing them alone or with shorts, he says, especially given that their proprietary Heat Tech technology makes layering a sweaty proposition. "Bieber wore a drop-crotch pair at the American Music Awards, and all he did was grab his crotch every ten seconds onstage."
Therein lies the aesthetic problem: Leggings have a tendency to highlight exterior private parts in a way that's, shall we say, specific to a man's anatomy. "Bulge is for the bedroom," admits Phillip Salem, owner of the meatpacking boutique Owen, where high-end leggings from designers like Henrik Vibskov and Sir New York retail for around $300. Right now, they're nearly sold out, though Salem has a suggestion for every guy that walks out the door with them: "Stretch out the crotch area before wearing them."
Aaron Reese, a fashion blogger, likes to wear his with "a structured top" or an oversize graphic tee. "Our culture increasingly becomes accepting of blurred gender lines within the fashion industry," he says. "Womenswear is consistently inspired by menswear, and [now] vice-versa." But for designer John Bartlett, another newfound designer of meggings, it has nothing do with androgyny. "It's more an offshoot of athleticism," he says of his football-inspired pairs, above. "With all of the performance gear and sport-inspired clothing out right now, leggings are great pieces of clothing, whether worn under your jeans or alone for a night of clubbing." 
Bartlett has a point: Before leggings were the preferred garment for women who hated panty hose, they were basically athletic gear sold as "compression garments" by companies like Patagonia and Northface to insulate, protect, and help people exercise. Hundreds of years before that, they were known simply as stockings. Shakespeare owned countless pairs. King Henry the VIII wore knitted silk ones that he presumably borrowed from none of his six wives. 
It took women like Lindsay Lohan, Nicole Richie, and millions of others glomming onto them in the mid-aughts — pairing them with denim cutoffs, tunics, and (ugh) Uggs — to get the most daring among men to try out the look. Stores like Barneys, Nordstrom, and small boutiques are just starting to test them out on the men's floors this season. And though retail watchdogs like NPD and NRF don't yet track the category, it's these guys who might keep sales brusque after women have stocked up (or tired of) all the opaque hosiery they could possibly need.
Just ask Salem, whose Vibskov leggings were a hit with a certain breed of fashion-forward customer this fall. Technically, they're unisex, which means he sells them in both the men's and women's side of the store. Still, he notes, "We've only sold [through] them on the men's side." So if you're looking for your own pair, gents, you might check out the women's department.