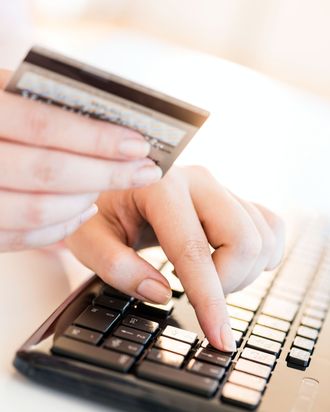 Click to buy.
Photo: Corbis
Amid all the normal jokes about who really uses the word cyber anymore — har, har — Cyber Monday was bigger than ever this year, just as it was last year, and the year before. According to numbers released by IBM Corp., sales increased by over 30 percent and are projected to reach over $1.5 billion, reports WWD. However, the average customer who shopped on Monday spent 6.6 percent less than last year — an average of $185.12 per order. In other words, more people shopped, but they spent less.
None of these figures are surprising, and they'll probably go up steadily in the future. The amount of people who do their shopping online will only increase from here, and any retailer worth its salt will make itself as e-commerce friendly as possible (free shipping and returns, please). Indeed, WWD says that almost 93 percent of major online retailers sent out at least one promotional e-mail on Monday, which you probably know because you couldn't click on delete them fast enough. 
So, what was your Cyber Monday haul? Did you shop for others or yourself? And was anyone else dissuaded by the relatively paltry discounts? Twenty-five percent off hardly counts as a steal, especially with January clearance sales right around the corner.