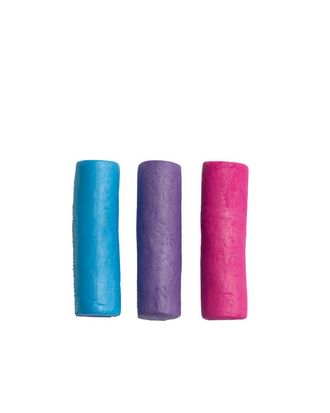 Photo: ?2012 NORDSTROM, Inc.
Yesterday, I road-tested Katy Perry's peacock-hued false lashes.  Today's experiment includes a run-in with Nordstrom's Hair Chalk. As soon as the impromptu afternoon activity arrived at my desk, three of my colleagues instantly jumped out of their chairs to join me. Our findings:
Christina Han: My hair, unlike the other Xtina's My Little Pony mane, has never been dyed. It's also only been chemically treated once, when my mom thought a perm at age 5 would be a good idea. While I chose the pink-hued chalk and aggressively rubbed it into my dry follicles like the directions said to do, more color stuck to my hands than my hair. After dampening another section of hair then rubbing the color in, the pigment seemed to transfer a little better. If you're close enough to inspect my split ends, you'll see a wisp of pink.
Kurt Soller: When I used to work at a men's magazine, coloring my hair would've made me a joke (update: it still does). Diana convinced me that my light hair would help the product show off best, which it did, but it really stuck better to my (pale) forehead and dry hands. It looks like someone ashed a cerulean cigarette all over my head from above, or like I got into some sort of tussle with that bird from Twitter. Never again, beauty department.
Diana Tsui: I've never been one to shy away from colorful hair, so hair chalk seemed like a fun way to create a rainbow effect on my bleached blonde streak. Perhaps I was a bit too enthusiastic during the application process. After a few rubs, the entire piece shattered and sprayed Christina with little blue bits. The color itself did transfer nicely, creating a mermaidlike blue-meets-green hue. I wanted to go full-on Lisa Frank, so I layered some pink as well — fun, but I'm pretty sure my hands have more dye than my hair.
Jessica Benjestorf: I'm kinda into it — in the way that I was into Tragic Kingdom when I was younger and used to spray that crazy-colored toxic stuff from the drugstore in my hair before soccer games. The purple color showed up as a nice lavender in my highlights, and I think the pink would be pretty, too. As for application, the whole thing crumbled in my hands, and the amount of nostalgia I got out of it probably isn't enough to outweigh the fact that I'll vaguely smell like a school playground for the rest of the day.