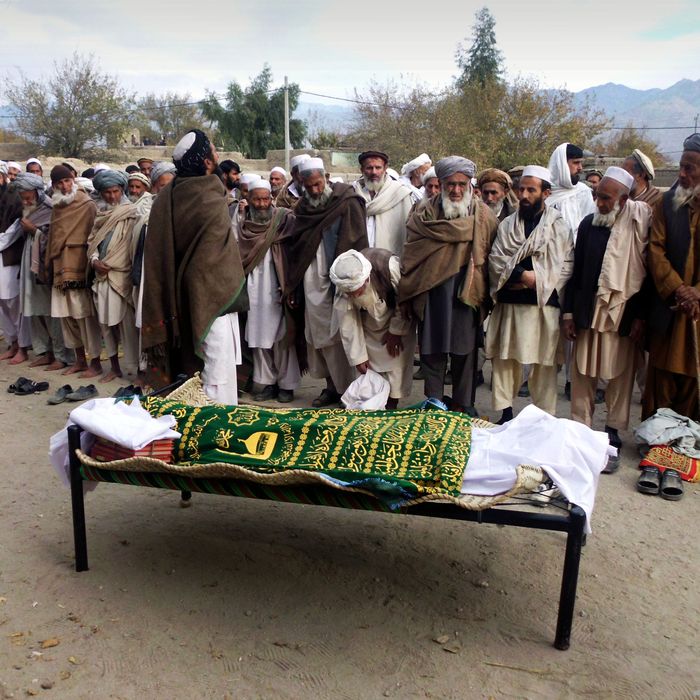 Photo: Khalid Khan/? Corbis. All Rights Reserved.
As President Obama and Secretary of Defense Leon Panetta orchestrate the "drawdown" of U.S. troops in Afghanistan, a handful of headlines this week served as a stark reminder that it's still a really scary place to be a woman. The United Nations released a report yesterday chastising Afghanistan President Hamid Karzai's administration for failing to enforce the country's Elimination of Violence Against Women Act, which made rape, forced marriage, and honor killings, among other things, illegal in 2009. Only a fraction of the 4,000 reports of abuse in the past seven months were filed to the police, the New York Times reports, and prosecutors only took a third of the complaints (163) to trial. Even though they're required to follow legal procedures, police refer women to tribal councils (especially in the eastern Pashtun areas of the country), and women live in fear of retribution.
On Monday, the head of an eastern province branch of the Afghan Ministry of Women, Nadjia Sediqi, was shot to death on her way to work. Her predecessor in that post, Hanifa Safi, was killed by a bomb under her car six months ago. Both attacks have been blamed on the Taliban. According to Afghan Parliament member Zufenon Safi, "We should expect more similar assassinations in the upcoming weeks and months because they have threatened every female civil servant, including members of the provincial council and teachers."
So, what to do? The Washington Post recommends supporting a proposed amendment to the National Defense Authorization Act, which would require the Defense Department to develop a "three-part strategy for the security of Afghan women during and after the U.S. withdrawal," including collecting data on their safety and recruiting them for the army and police.