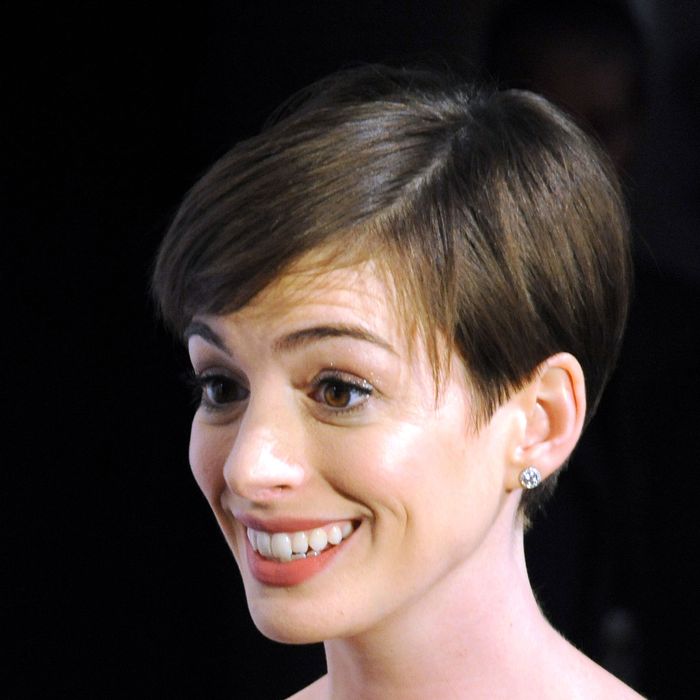 Anne Hathaway.
Photo: Corbis
Anne Hathaway has officially joined the hallowed ranks of Celebrities Caught Getting Out of a Car Without Underwear On, doing a tremendous favor for all future members of the group. See, instead of being associated with Britney Spears at her lowest career point, this kind of incident can now be tied to a respected actress who's vying for an Oscar nomination. It's a great new day for crotch shots, really!
Further cementing her crotch shot pioneer status, Hathaway didn't take the normal Hollywood route of playing coy and allowing Photoshopping rumors to swirl. Instead, she owned up to her vagina's red-carpet debut, which she heard about just moments after it happened. The Post overheard her talking about them at a press event at The Four Seasons yesterday: "I found out [about the pictures] just as I came in," she said. "And I just thought, 'OK, where's the comedy?'" She also likened the incident to an explosion:
It has hit. It has landed. A bomb has gone off. I think what I am going to do is whatever my next appearance is … I'm going to step out of the car in a blanket. You've got to laugh at it.
Alternatively, she could step out of the car in underwear, but who are we to suggest such things? Anyway, she also addressed it on the Today show this morning, where she gracefully fielded Matt Lauer's "seen a lot of you lately" comment:
It was obviously an unfortunate incident. It kind of made me sad on two accounts. One was that I was very sad that we live in an age when someone takes a picture of another person in a vulnerable moment, and rather than delete it, and do the decent thing, sells it. And I'm sorry that we live in a culture that commodifies the sexuality of unwilling participants. Which brings us back to Les Mis…
And thus, a new bar has been set.