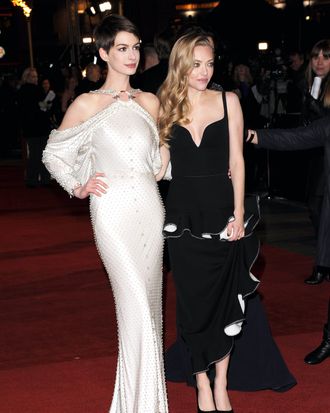 Anne Hathaway and Amanda Seyfried.
Photo: Stuart Wilson/Getty Images
The Les Miserables world premiere is upon us! And Anne Hathaway, who's landed multiple magazine covers this month and gotten tons of attention for her diet and wedding (that would be in order of interest, not chronology), surely had designers falling all over themselves to dress her. Which makes her choice — a white Givenchy couture dress with shoulder cut-outs and bat sleeves, all held together by an O-ring at the collarbone — a surprising one. She resembles a bridal flying squirrel, does she not?
Meanwhile, her co-star Amanda Seyfried took a page from Kristen Stewart's book (literally — Kristen wore almost the same top a few weeks ago) and trotted out a look from Nicolas Ghesquière's final Balenciaga collection, which looks great on her. Thoughts? We'll be seeing a lot of these two ladies on red carpets over the next week, so brace yourselves.