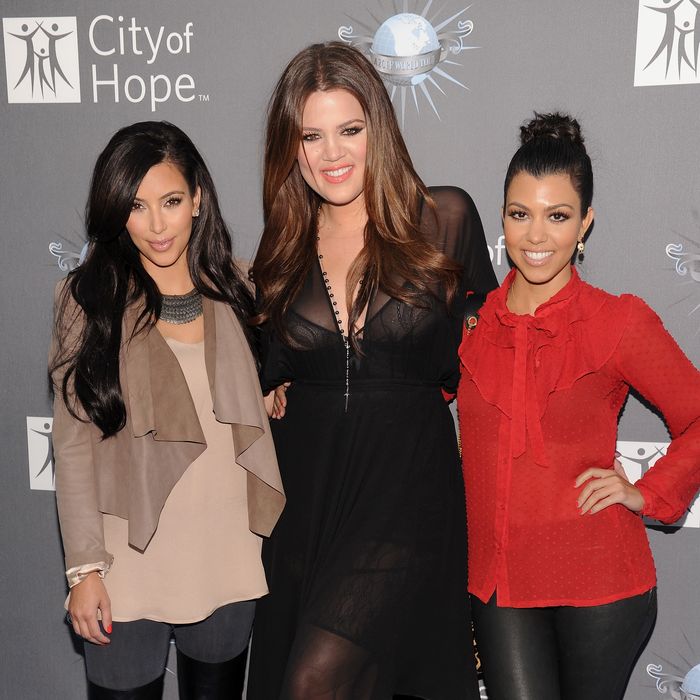 Guess who.
Photo: John Sciulli/2011 Getty Images
Back in November, the owners of Beverly Hills–based cosmetics company Chroma Makeup Studio issued a public statement complaining that the Kardashians' new beauty line, Khroma, would cause consumer confusion. Although they didn't file legal charges, Chroma's co-owners did threaten to defend their trademarked name, adding disdainfully that they are "NOT endorsing low budget cosmetic products that will be sold in mass retail outlets." Now another makeup brand, Florida-based Kroma makeup, is making similar claims that have culminated in a lawsuit from the Kardashians' license-holder, Boldface Licensing + Branding.
The story begins back in June, when Kroma's owner, Lee Tillett Inc., sent a cease-and-desist letter to Boldface, claiming that the Kardashians' Khroma Beauty infringed on their trademark of Kroma, which Tillett applied for in 2010. Boldface denied the infringement allegations in July, and then took matters a step further last Friday, filing a lawsuit against Tillett in California to seek a judge's ruling in their favor. Boldface states in their legal documents that the name Kroma "consists solely of a descriptive term and lacks any inherent distinctive meaning to the relevant consuming public and therefore, is conceptually weak." Hmmm. Apparently that additional h makes all the difference?
Meanwhile, the Kardashians are gearing up for what will surely be a dizzying press tour for Khroma, which has launched some products ahead of the holiday season and will come out with several more in January.