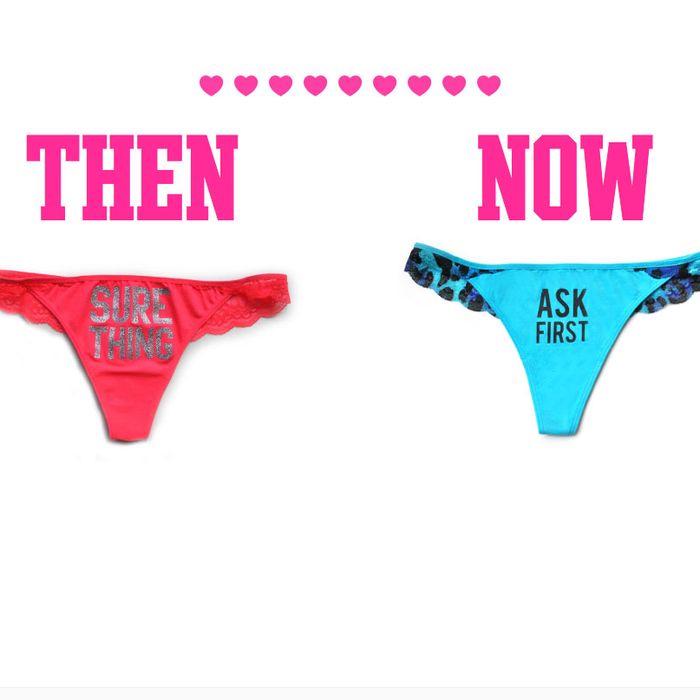 Photo: Pinklovesconsent.com
Timed to coincide with tonight's telecast of the Victoria's Secret Fashion Show, some activist types launched "PINK loves CONSENT," a Victoria's Secret parody peddling anti-rape panties. "To win back customers it has alienated with its 'rape culture' styles," an activist who insisted she worked for Victoria's Secret told Jezebel, the brand would replace apparently rape-friendly slogans like "SURE THING" with rape-thwarting slogans like "ASK FIRST." "When it comes to sex, words like 'no' are for setting boundaries, NOT flirting." 
Within 24 hours of its launch, Jezebel debunked the campaign. Female bloggers took to Tumblr, warning one another that this anti-rape lingerie line was not real, so do not fall for it. 
But I am here to tell you that, in 2005, Victoria's Secret produced at least one pair of anti-rape panties. I know this because I purchased them for the one and only situation in which anti-rape panties make sense: a college lingerie party.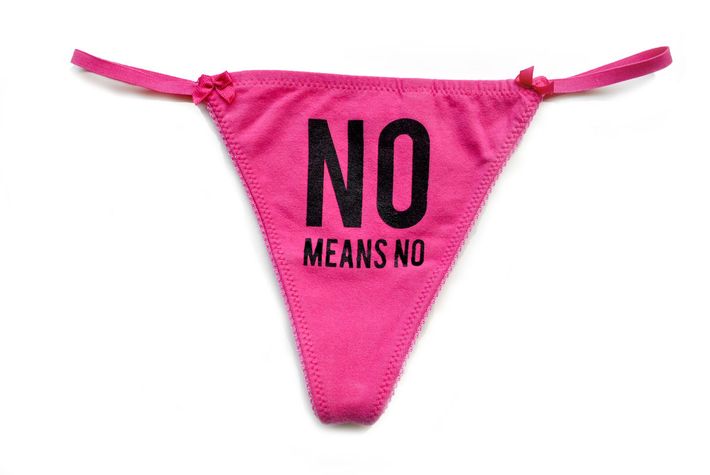 I cannot prove my anti-rape panties existed; they are no longer in production, and it is not in my best interest to furnish personal evidence. However, I distinctly recall a feeling of escalating panic as I scoured the bins at a central Jersey Victoria's Secret for that perfect contradiction: underwear that would simultaneously demonstrate my sexiness and thwart sexual advances from sloppy-drunk bros. In retrospect, college lingerie parties present the ultimate Paris Paradox, so it is no surprise that sexy-but-not-sexual Victoria's Secret provided the solution. My anti-rape panties were hot magenta hipsters with contrast baby pink piping (like so) printed with silver lettering (like so) on the butt. "DO NOT TOUCH," my anti-rape panties said.
And I am here to report that at the one and only lingerie party I ever attended, that message was repeatedly, willfully, and flagrantly ignored.
Just in case you were wondering what the fate of an anti-molestation message plastered across the lingerie-partying ass of a college co-ed would be.