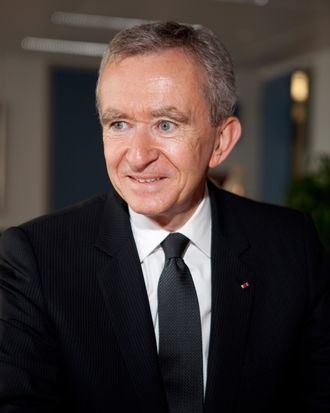 Photo: Thierry Tronnel/Corbis
After applying for dual French-Belgian citizenship several months ago (and making headlines for it!), the LVMH CEO's little exploit "may have hit a snag," writes Businessweek, because his primary residence hasn't been in Belgium for the required three years. Now a parliamentary committee, the public prosecutor's office, and security services have to decide unanimously what to do with Bernie, and according to Belgian newspaper De Morgen, that could take some time. Except:
The Belgian naturalization process changes on Jan. 1, allowing famous people to seek nationality based on their ability to enhance Belgium's international standing, De Morgensaid.

Belgium "is in need of" Arnault, who would invest in the country and create jobs there, Belgian lawmaker Theo Francken said, according to Flemish language broadcaster VRT, adding "he is somebody with tremendous added value for our country."
Sounds like he's in! Even though he plans to remain a fiscal resident of France. Anyway, someone buy Marty Markowitz a plane ticket to Brussels. Belgium is begging for a new slogan.