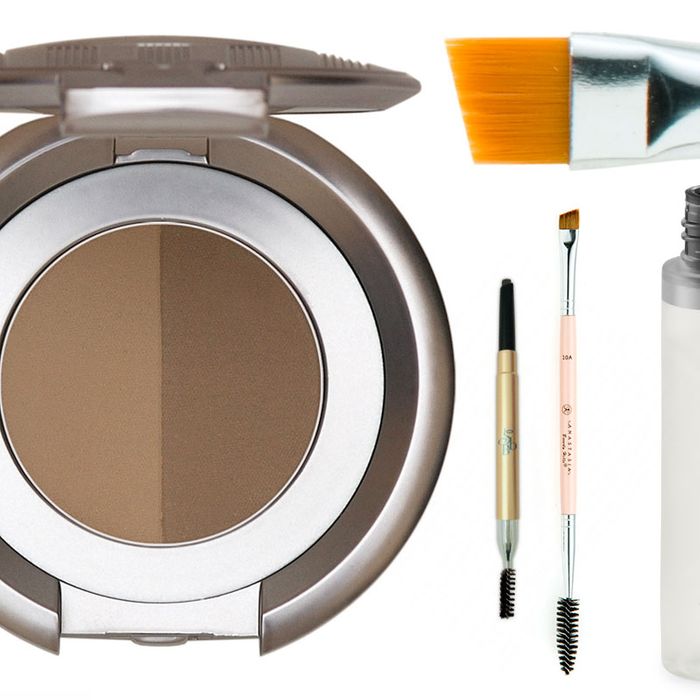 Whether you're seeking the wild thickness of an Olsen or the refined arches of Lady Mary, a well-groomed brow takes some work. Depending on the era, the brow-beauty pendulum swings from ultra-skinny to medium to unruly and back again. Generations of women have fallen prey to their early overplucking habits, only to find they can't grow their brows back in their late twenties and thirties, let alone get them as gloriously full as Brooke Shields. Without getting into the intricacies of waxing, plucking, or threading for this edition of Obsessive Tester, we've explored the many ways you can enhance your brows by drawing them onto your face.

I was introduced to the world of brow maintenance by a high-school frenemy who bluntly told me, "You might look cuter if you fixed your eyebrows." It hurt my feelings, but I suspected she was right. Though I never overplucked, my dark brows stopped in the middle of their arch, dwindling to a sad, thin line. Immediately after school that day, I walked to the MAC store and had the salesperson explain how to use their Brun eye shadow as a brow filler. I've been a MAC devotee ever since. But recently I'd been hearing of new options like brow markers and waxes. Since hair growth only slows as we age, it seemed time to test out some new products. I found that in the fifteen or so years that I've been faking eyebrows, powder still won the day, though there were many nice pencil options to keep handy in your purse. Read on to see which products had the best precision and durability.

Not recommended:

Shiseido Natural Eyebrow Pencil, $20
The pencil tip stays sharp for a long time, mostly because the product is so hard it almost hurts to apply over the whole arch. The short-hair stubby brush on the opposite end seems kind of useless, but maybe it's for blending — it wasn't totally clear to me because there were no instructions. This might work for you if all you need to do is fill small patches in otherwise full brows.

Lancome Le Crayon Poudre, $25.50
Decent color, but this pencil was much too soft to give precision definition.

Bobbi Brown Brow Kit, $47
Inside this compact you'll find a light and a dark powder plus a small brush and a pair of tweezers. But that's not a selling point unless you are traveling and really tight on space in your luggage, as none of the items work that well. Better to get your own longer handled brush, and tiny tweezers never really work.

Tarte Amazonian Clay Waterproof Brow Mousse, $28
This tub of semisoft gel comes with a double-ended bamboo brush for the gel and mascara-style brush for combing brows. I find these types of gel-powders too smudgy. No matter how much I layered, I couldn't get the color dark enough to match my almost-black brows.

Recommended with reservations:

Josie Maran Magic Brows: Argan Brow Marker + Argan Brow Powder, $24
At first, this went on too transparent, but I kept at it, layering, letting it dry, then drawing on more. In the end, it gave good coverage and didn't smudge. In fact, I needed eye-makeup remover to take it off. I liked the color, but it took too long for a regular morning.

Benefit Instant Brow Pencil: Pencil for Natural Looking Brows, $20
This very soft pencil only worked when sharpened frequently, basically after one use on one of my brows. If the tip got blunt, it just smudged or slipped. Not good for someone who needs a lot of coverage.
Smashbox Brow Tech To Go, $26
An angled pencil whose hard, waxy tip allows you to draw "hairs" precisely, this product needs to be applied slowly and with constant pressure. On the other end of the pencil there is a high-gloss brow gel that made my eyebrows feel crusty and hard. It works but wasn't a pleasure.

M.A.C. Penultimate Brow Marker, $18.50
I'm not totally sold on brow markers in general because you have to apply so many layers to get good coverage, which takes a long time. But this chubby version was the best in terms of color and required fewer layers than the others, so if you like using brow markers, it'll do the job with small, hairlike strokes.

Recommended for full coverage application at home:

Anastaia Brow Powder Duo, $22
Use an angled brush to apply the two tones of powder in this small, silver compact for color that will stay put all day. I used the light color on my existing brows, adding depth and fullness. I used the velvet-smooth, dark-brown shade to extend my brows where they don't grow, for a totally natural look. I'd leave it home, though, because I'd hate for the unprotected brush to get damaged in my makeup bag.

M.A.C. Brow Finisher, $15
A slim, self-sharpening, clear wax in a mechanical tube that gives your brows that perfectly groomed feeling. It adds a bit of texture, much the way pomade would to your hairstyle. I would start the morning using this product because it's not the kind of thing you'd whip out in a public restroom for touch-ups.

Recommended for keeping in your purse:

Sania's Brow Bar Mechanical Eyebrow Pencil, $25
A sleek, brushed-metal case with a mascara-style brush on one end, this triangular shaped, self-sharpening pencil had just the right amount of hardness to allow for precision application but didn't hurt to use. The brush helped prep and tame the eyebrows. The color stayed on all day without smudging but also washed off easily with warm water at night.

Bare Escentuals Brow Finishing Gel, $14
Most clear gels leave hair feeling crusty or looking overly shiny. This was the only one I have ever tried that held my brows in place for several hours without any stiffness or sheen.