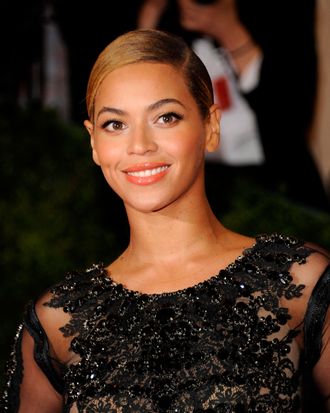 Photo: Evan Agostini/Corbis
Makeup artist Wei Lang has been in the business of getting people pretty — from skin care to facials to makeup — for over 30 years. Lately, she's been working with Tina Knowles and, as with any good momager mother, mama Knowles passed Lang's handiwork down to her daughter, Beyoncé. The makeup artist and facialist, who only does house calls, has now been tending to B's stay-at-home-mom face since spring, but only for big, red-carpet events; the singer prefers to do her own makeup for everything else (like when she's sitting courtside with Jay-Z at a Nets game). Read on to hear about Lang's favorite looks, plus some products tips for Beyoncé.
What type of foundation do you use on Beyoncé?
I don't really use a lot of makeup on her. The one thing I do when she goes out is contour (because of the photography) but not too heavily. She has flawless skin, so I don't really want to cover that up.
How about face shimmer or highlighting products?
I really only use that on her forehead and under her eyes for a little highlighting. Every now and then, I'll use a shimmer product.
What's her beauty must-have? 
She really does like liners, and she asks for that a lot, and lashes. And I always use mink lases on her. They look amazing. I use strips by Velour called "Are Those Real?"and I got her really into it, so she buys them by the ton.
Do you always put false lashes on her?
For the Obama fund-raiser, she wore a red dress and was looking really beautiful that night. We did false lashes first, but we took them off, because it was a little too much. With a strong look, she didn't really need it.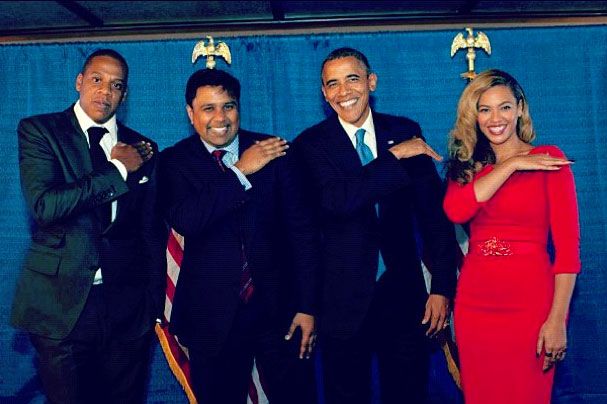 What has been your favorite beauty look on her?
The Met gala [shown at top], because I just love the simplicity. She was glowing and it was less about her makeup; you really just saw her and not a mask. Because her hair was so dramatic, we really wanted to keep the makeup simple. And that's the bottom line about my makeup advice anyway: You want to see the person. The brows were touched up; I didn't leave the eyebrows bare. I used a bronze-y cream shadow with very fine sparkles and tapped it on her eyelids. There was brown liner on the bottom lashes and a little winged liner on top with black gel. The one color on her face that popped a lot was the lip, which was an orange lip gloss. Oranges and corals were very big at that time. And it looked right, with her hair all pulled back.