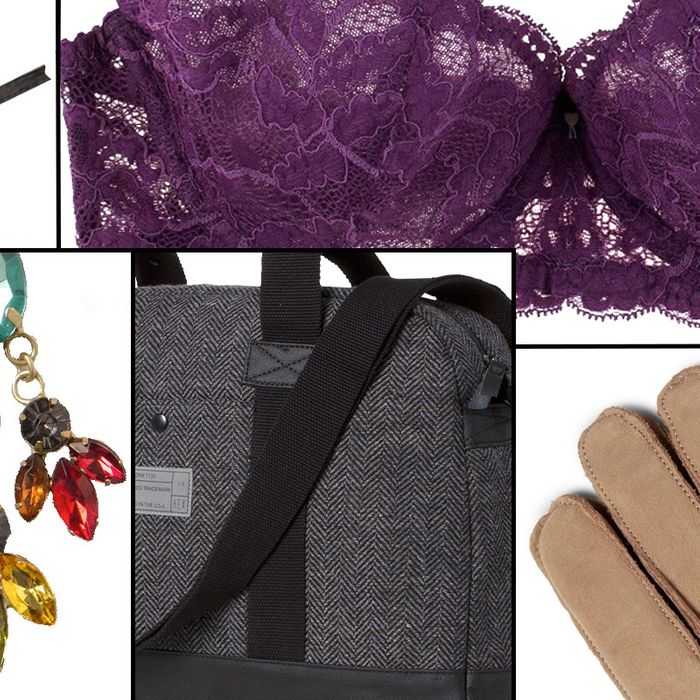 With Hanukkah ending this Sunday and less than two weeks until Christmas, hopefully you've crossed off everyone on your list. Chances are you're forgetting someone. For those unexpected surprise presents that require reciprocating, we've gathered up 100 last-minute ideas, all under $100, in our latest Shop-a-Matic. There are practical gifts — like a colorful set of utensils, ideal for any friend who just moved into a new apartment — to the frivolous, like a tabletop tennis set, perfect for forced White Elephant gift exchanges. Should you need to bestow a work colleague with something inexpensive yet appropriate, graphic notebooks from C. Wonder or retro-style pens from Mxyplyzyk should do the trick. Click here to see the full selection and read on ahead to see some of our favorites. 
Cat Eye Mask
Price: $24
Why We Like It: For the frequent traveler who cringes at the thought of yet another frilly sleep mask, this version has just enough cat-eared whimsy, but still remains sleek and chic.
Candy Crystal Earrings
Price: $38
Why We Like It: Psychedelic jewels are having a moment. This inexpensive pair of danglers is the perfect way to jazz up any outfit. Gift it to someone who needs to transition from the cubicle to happy hour on a regular basis.
Clo Fortuna Balconet Bra
Price: $52
Why We Like It: Pretty lingerie, like this lacy purple bra, is one of those things that most people love but may not splurge on, making it the ideal last-minute gift. Wrap it up with some fancy paper and no one will be the wiser.
Dents Knitted Cuff Leather Gloves
Price: $80
Why We Like It: Most guys will shove their hands into any available pocket once the temperature dips, so why not give him a pair of classic leather gloves to keep his hands warm? It's a no-brainer gift, especially if you're at a point in your relationship when you're only beginning to exchange gifts.
Drake Laptop Duffel
Price: $100
Why We Like It: Herringbone tweed is a stylish upgrade from standard black twill laptop bags. This version will hold a fifteen-inch laptop, and offers separate storage for an iPad or work-related essentials.