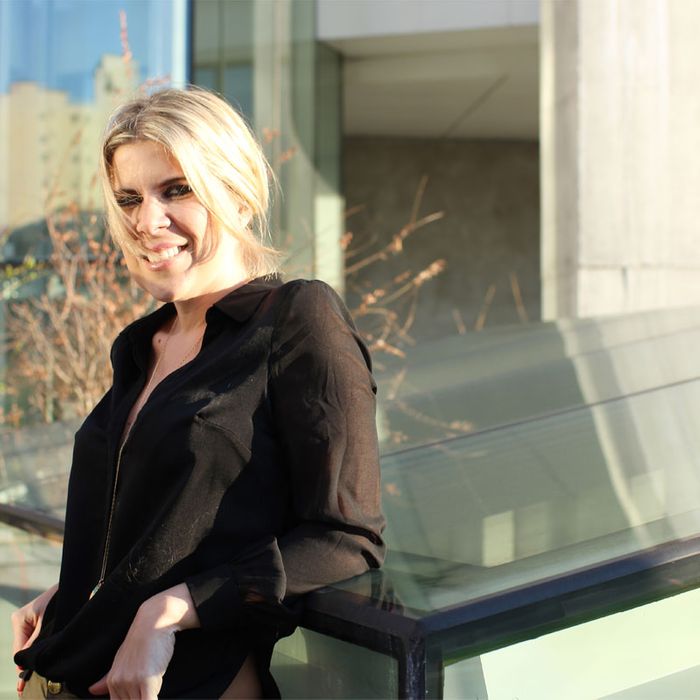 Ciaté founder Charlotte Knight has some strong opinions on the nail-art world. "I think that historically, in my opinion, it has been tacky," she says, referring to "diamantes," "palm trees," and "zebra prints," before adding: "If you had told me two years ago that Ciaté would be known for being one of the most innovative nail-art brands, I would have laughed."
Long before Knight entered the cosmetics world, she gained some business know-how from neighborhood jumby sales — that's British-speak for yard sales — when she was just 14 years old. The young entrepreneur would offer up 20 percent commission for each item donated by friends' parents. "I should've thought of eBay!" she laments over the missed opportunity. Now the business-minded Londoner is known for introducing innovative DIY nail art kits to the Sephora masses. Her best success has been the brand's "Caviar" manicure, a two-step process that includes sprinkling wet nails with tiny circular beads, which launched earlier this year and was both controversial and beloved. What soon followed was a Ciaté frenzy, including holographic hues, velvet-textured ones, and the latest: sparkly flecks of multicolored sequins dusted over manicures. 
Yet Knight has no formal training in nail artistry. She learned everything she knows from a nail artist she regularly saw in London before moving to Dublin nearly ten years ago. Fearing that her new Irish home would not have a nearby salon, she asked for lessons in doing at-home manicures. But when she arrived in Dublin, even if she wanted to get a manicure from a professional, there wasn't a single salon to patronize. Within a year, she set up eight freestanding salons, and then three years after that, Ciaté was born. (It was originally called C.I.A.T.E., which stood for color, innovation, aspiration, trend, and extraordinary, but the rather clunky acronym was shortened to a French-sounding moniker.)
Now the spectrum of Ciaté shades can be spotted on the fanciest of fingers, from Adele to Blake Lively to Kate Moss and Rihanna. Along the way, Knight has collaborated with designers including Alexander McQueen, Stella McCartney, and Antonio Berardi. And, within this past year, the tiny British nail-polish company, which got its start from hand-mixed formulations by Knight herself, has become an international brand. She sat down with the Cut to explain how it all came to be.
Who was the first designer that you worked with?
Alexander McQueen. It was amazing, just amazing. This was about seven years ago. I can't remember what the name of the show was, but it was when he did his whole devil thing, people being sacrificed — it was very dark. 
What was that collaboration like, as far as creating the nail look?
Working with him was intense. Like, it's a huge cast of models and we had nails that literally looked like claws. It was all black, like fake nails curled around at the end, because it was this whole beast and devil thing, and very scary. But the preparation that goes into something like that is intense; it's not something you can just turn up on the day of and just do.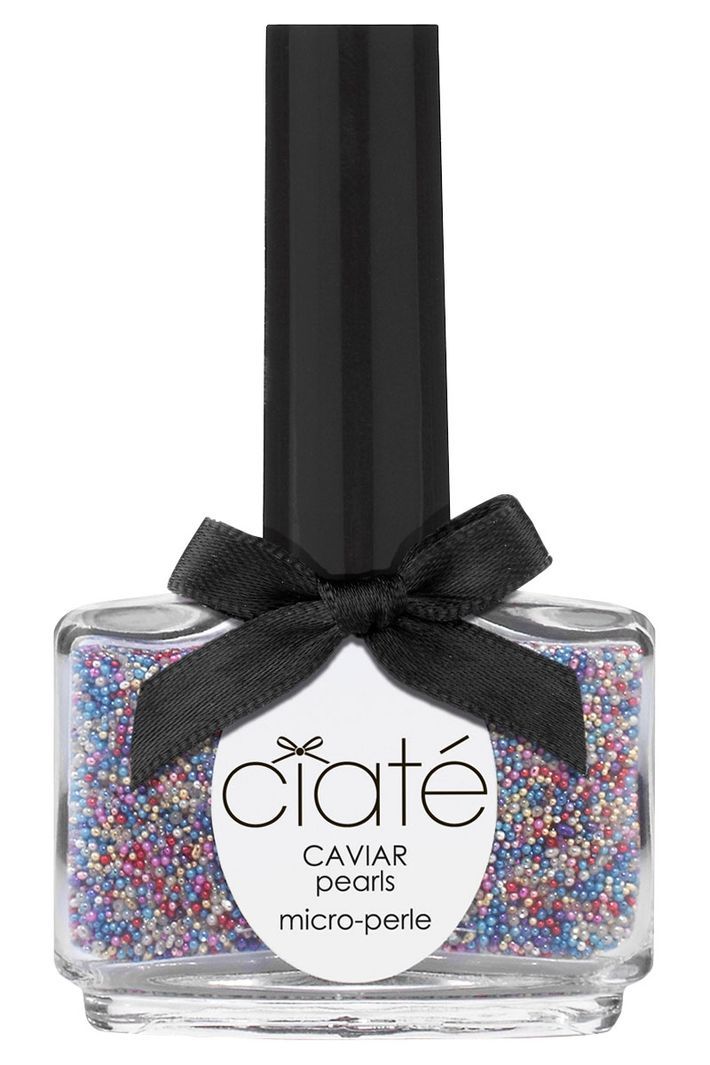 When do you think the nail art trend really picked up? And why?
This year, I think. Honestly, introducing the Caviar manicure took it to another level, with the whole 3-D thing. I think we made a look that was kind of like a backstage look, but available in a cool DIY set. I think that crackle nail polish obviously started the one-coat thing to be able to create funky nails. Then the magnetic was another way to do funky nails. Then the Caviar, was, like, DIY, totally outrageous, and now it's just getting crazier. It's like, how crazy can we get?
What are your texture inspirations?
Fashion, really. Let's look at what people are wearing. Let's look at the textures that you've got in clothes. How many textures can we play with, to go with nails? I would love it if it were all possible, but there are limits to what you can do, like woven or knitted nails. People are literally matching their nails, like looking at their bag and thinking about it as a complete look. 
What is your fantasy texture?
I'd love to be able to do patent leather. I know you can obviously paint the nails a glossy black, but I'm talking the actual texture of patent leather. I just think that would be awesome, you'd see yourself in it. It would just be amazing.
What is your favorite nail design that you've created?
Our Christian Louboutin inspired manicure. We created a look that Adele actually wore to the Grammys when she collected her awards and that's by far my favorite. We have a polish called Jewel, and they built it up so that it encrusted the nail and underneath was this color Mistress. When she had the Grammys, in her hand you could see the red underneath, you could see on top; it was genius. That was stunning.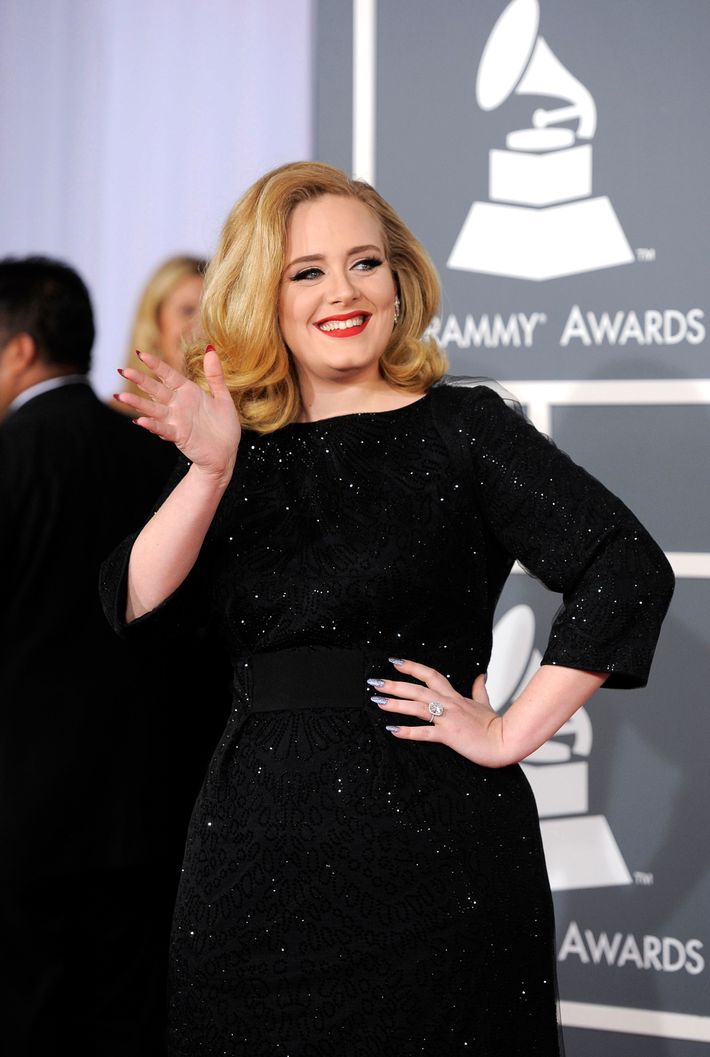 What's your stance on more out-there nail art? Like people whose nails look like sushi.
Who does that? Nicki Minaj? Katy Perry? That's because they're on Twitter and doing music videos. I don't know if there are very many people, where that's their every day. What I think is really cool is when you're going to a party and there's a theme or a group of girls where you decided to go glamorous or funky-punk. Then there's all of this array of product you can put on your nails to match the theme.
Are there trends that you're tired of yet?
I'm so over crackle. If I see another crackle nail polish, I think I'm going to crack up. Magnetic, I'm kind of like, if I see another magnetic shape come out — it's like okay, look, we got excited about the wavy, and the criss-cross, it's like how many shapes can we do? But I'm over those two, and people will be saying it about Caviar. Not just yet. Everything has its cycle and I'm sure we'll be doing it all again, like with fashion.
Who is your dream celebrity client — dead or alive?
Marilyn Monroe would be cool. I'd love to see her with rich red nails and a 3-D bow set into them. Could you imagine her? It would be stunning. She was just so beautiful and iconic. She was curvaceous, and she had that beautiful hourglass Coca-Cola figure. I don't know about the nail art, but she's someone where I would love if she were to wear our best red. To be able to say our best red was worn by Marilyn …
If you could do nails for the Duchess, how would the Duchess wear nail art?
I think she would have to have something very delicate, very beautiful. I know she loves her nudes. A new shade, Amazing Grace, it's basically a ballerina pink. It's simple, but beautiful. It was actually mixed by my daughter, Gracie. She sat at the table and she had all these bottles, and she was mixing all these colors, not knowing what she was doing, she was just playing shop because she sees me do it. And she had basically mixed these three polishes together to create this beautiful pink shade. And I would put our Antique Brooch, because it's very royal and beautiful, on her ring finger. It's a gold that has three different grades of glitter and two different micas all blended together, which creates a rough, raw texture.