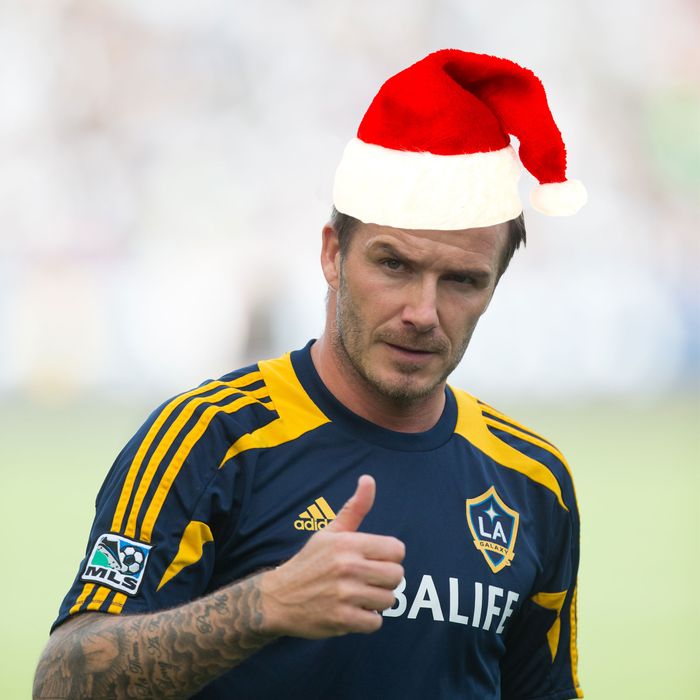 David Beckham, Santa baby.
There are upsides to being famous during the holidays, as there are in life: You get lots of free stuff. But celebrities have one big problem during gift-giving season — it's much harder for them to buy things in secret. While we normal folks are aggressively ignored by sales staff and other customers while we go about our Christmas shopping, the purchases of famous people are ruthlessly documented and gossiped about, which means any presents they buy will get splashed all over websites like this one. (Victoria Beckham, if you're reading this, STOP NOW. Suri, you can't read yet, so we're not worried about you.)
Yesterday, paper of record the Daily Mail reported that Katie Holmes bought Suri a $24,000 playhouse from Sweet Retreat Kids, which comes with running water and electricity, for Christmas. Either way, it sucks for Suri if she gets wind of this — if Katie did buy it, now the surprise is ruined, and if she didn't, then, well, Suri will get her hopes up for nothing.
Meanwhile, WWD reported today that David Beckham bought two pairs of silk pajamas by Olivia von Halle from Harrods for Victoria this week (prices start around $422, should you be interested). Aw, G-rated pajamas — of all things cute celebrity couples could be caught buying for one another. Anyway, of the many things we're grateful for this time of year, being normal is one of them. Also, anonymous online shopping.