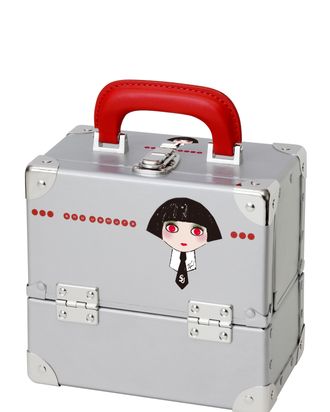 Photo: Masakazu Ikeda/Courtesy of Shu
Using makeup as his paint palette, the Kaiser whipped up a doodle of a girl with a graphic bob, a red-lipped pout, and a completely normal set of crimson pupils to represent his Karl Lagerfeld x Shu Uemura holiday collection. She's dressed in signature Karl costuming that includes a crisp white collared shirt and a perfectly knotted black tie. "Mon Shu Girl," as he calls it, ends up being the perfect collision of Japanese pop-anime and Parisienne chic. And her makeup collection is a bit unusual, just like her, packed with the eye and cheek palette in bordeaux, Rouge Unlimited lipstick in celebrity beige, painting liner in blackish satin purple, and a mini-brush set.
Today on Twitter and Instagram, we're giving away this Karl Lagerfeld x Shu Uemura makeup box (a $325 value) to one lucky winner. But there's a catch: To win, you have to caption Karl. That's right: Your words + the Karl = great prize.
Here's how to enter: 
Follow us on Twitter @TheCut and on Instagram @cutblog. At 2 p.m. Eastern, we'll post a picture of Karl for you to caption. Reply to our tweet with what you think Karl Lagerfeld would be saying in that moment and the hashtag #CaptionKarl. On Instagram, comment on the picture with your original Karl quote. Don't forget the #CaptionKarl hashtag! You can enter as many times as you want between the hours of 2 p.m. and 4 p.m. Eastern, but there can only be one winner. One lucky winner will be selected from both Twitter and Instagram, and we'll judge the captions based on creativity, humor, and the just plain Karlness of your caption. Let's play #CaptionKarl.
Read the Official Rules here.