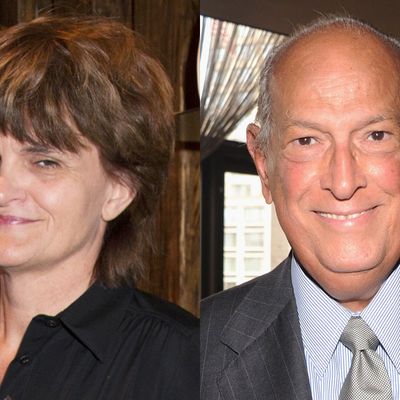 Photo: Corbis, Getty Images
After the éminence grise of American fashion and the Times critic traded barbecue-themed insults in September — forcing Lady Gaga to take sides and Mr. Horyn (Art Ortenberg) to tell Gaga to "grow up," and, most significantly, starting spring 2013's Open Letter Trend — "all appears to have been forgiven," WWD writes. Cathy stopped by the designer's pre-fall presentation last night, even taking a look backstage, where she likely declined any pigs in a blanket being passed around.
Asked if everything had been ironed out as she headed for the elevator, she said there was never anything unironed. As another olive branch to de la Renta, Horyn wore one of the designer's dresses and made a point of telling [president Alex] Bolen, according to one staffer.
De la Renta told WWD, "[Horyn] came to see me before the show and I told her we probably approach fashion in two different ways. I respect her way and I hope she respects my way … I read every single article she writes on fashion. I never hold grudges."
Delicious, delicious grudges.