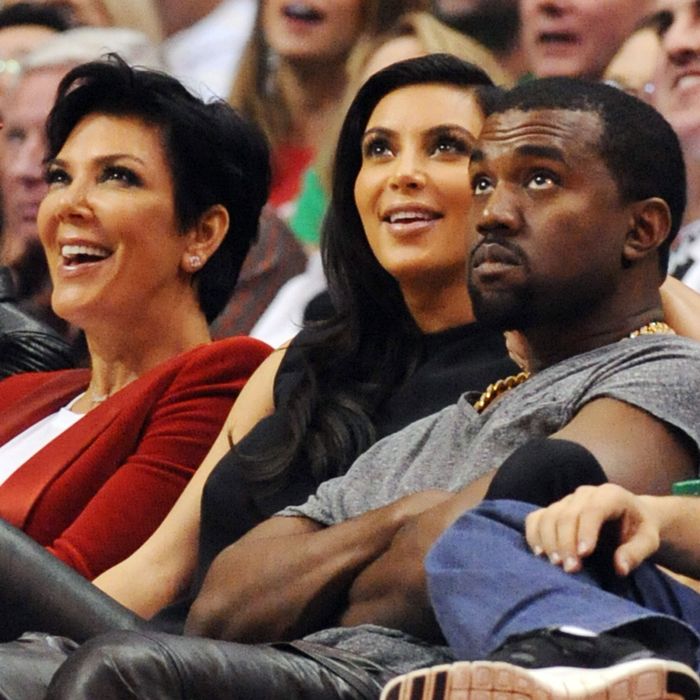 Photo: Headlinephoto/Splash News/Corbis
This weekend's announcement that Kim Kardashian is pregnant with Kanye West's baby was basically a foregone conclusion for the coming year. Having nabbed the reality shows, the failed television nuptials, the equally-famous boyfriend, and more clothing and jewelry lines that even this fashion blog can count, Kim's life lived publicly would not be truly successful until it reached a new, yet-unborn generation. She's just competing with the women of her Internet-celebrity cohort — Beyoncé, Katie Holmes, and Kate Middleton — as they all became/become mothers. But unlike those moms, Kim's recurrent fame and subsequent fortune are so calculated that her baby could become a money-and-fame-facilitator even before it's born. Here's how:
• Get Children's Clothing and Furniture Deals. While Beyoncé bought her child luxury items, Kardashian — she of the crass clothing and bauble stores — will decide that wee Louis Vuitton won't fly. Kim's Baby Klothes, a line of faux-fur onesies and Lanvin-esque sneaker booties will be in production before the first trimester finishes. After that, a line of furniture (Mom's Kidz Kave) will offer gilded cribs, Swarovski mobiles, shag baby blankets, and will be sold on QVC.
• Host a Twitter Naming Competition. With 26 million followers combined, K&K will launch an international competition to have their 'most favorite fans' help them choose the name of their forthcoming spawn. This will happen only after a ten-day-long, minute-by-minute Twitter countdown that leads up to revealing the child's gender.
• Name the Baby 'Kimye.' The new parents will insist that it sounds best, and that they didn't want to disappoint all their awesome followers by choosing just one winner.
• Televise the Birth. It's pretty perfect timing that season eight of Keeping Up With the Kardashians ended with Kim deciding she wants to freeze her eggs. That was in September, which is ideal timing for a season nine finale: They can film her hospital scenes ahead of time, and air it just as all the tabloid photos she undoubtedly sold run in Us Weekly and People, both of which will believe they had 'exclusives.'
• Sell Kim's Sonogram Photos. Proving that Kim understands the Internet, and has a knack for this sort of thing, monthly check-ins will run exclusively on the People.com mobile edition. Kids in middle school will use Snapchat to send them back and forth, while learning about sex.
• Broker a Television Deal for the Newborn. Before it is born. This will be sort of like watching a YouTube Puppycam, as the infant will not yet know how to walk or talk. One key difference: Kanye will agree to be in every episode, something the E! network has never been able to previously negotiate.
• Record The 'Baby' LP. In an era when Jay-Z came out with a new song the day his newborn arrived, there's no shame in recording a 22-song, crucially-timed album and naming it thusly. It will be part of a concept suite, followed by 'Infant,' 'Toddler,' and 'Kid' LPs.
• Command Appearance Fees. First, at places like Gymboree and Toys 'R' Us. But, within a few months (and just like its mom), the youngin' will stop wearing its own Klothes, opting instead for new threads from children's Gucci, Burberry, Fendi, and eventually Stella McCartney (the baby, even at two months, will have declared itself a vegan on its own Twitter account). Soon after, said baby will show up at these stores on Fashion's Night Out. On New Year's Eve and Halloween, Kim and Kanye will have family dinner at whichever club bids highest in Las Vegas.
• Play Dates with Blue Ivy! These will not be sold to the tabloids, but will happen in Central Park, out front of Barclays Center, or any place that attracts paparazzi. Seesaw photos will be in particularly high demand.
• Kim Will Create Family Drama. This could go two ways. Either Kanye West will be painted as an absentee father or Kris Jenner will be billed as the overbearing grandmother. One of them will be prevented from seeing the child, which will play out in every medium imaginable. Ryan Seacrest will host some sort of reunion special, in which the child is allowed to reconnect — at age five — with its formally-estranged father and/or grandmother.
• Or She'll Just Terminate the Pregnancy. That will propel her to never-before-recorded heights of fame/shame, as she tells the entire world (on Twitter, obviously) that she has decided she needs to 'focus on herself.'