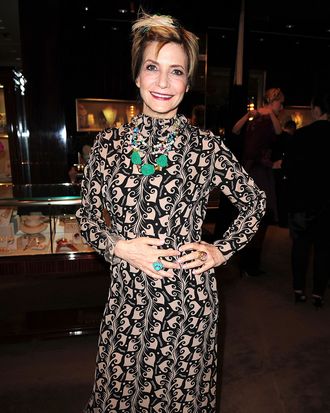 Lori Goldstein.
Photo: Gustavo Caballero/Getty Images
Elle editor Robbie Myers has hired two new staffers, Carmen Borgonovo and Lori Goldstein, to help flesh out the magazine's recently diminished masthead. Borgonovo comes from Harper's Bazaar UK and will oversee the supplemental Elle Accessories issue, which recently relaunched for fall 2012. Goldstein, who runs her own business as a stylist and has a fashion line with QVC, has been named fashion editor-at-large and has signed a one-year exclusive contract with the magazine, according to a representative. 
These hires come in the wake of several staffers' departures. Elle's two highest-ranking accessories editors, Kate Davidson Hudson and Stefania Allen, both left for "personal reasons" in November, and style director Kate Lanphear jumped ship around the same time. Rumor has it Allen and Lanphear are concocting a new magazine called Editorialist, out next spring, but confirmation has been hard to come by.
Related: Is Kate Lanphear Going to Work for Something Called Editorialist?