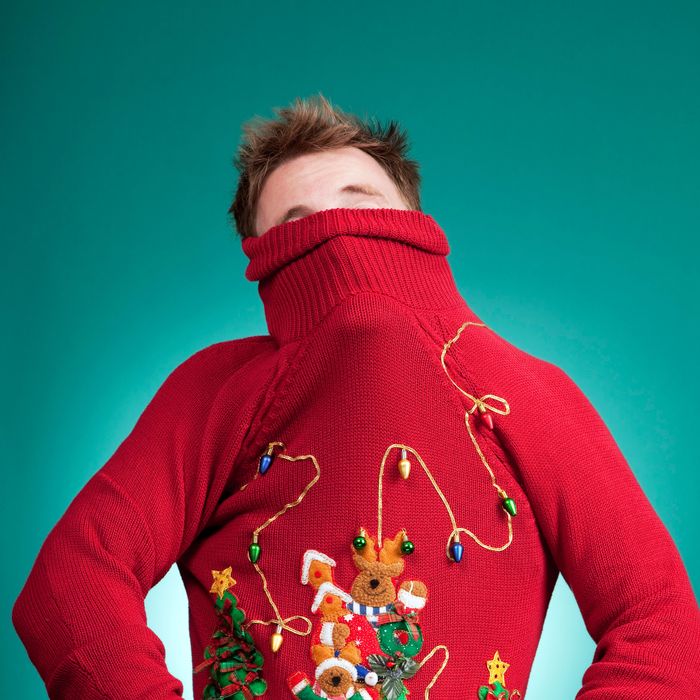 Photo: Gabriel Goldberg/Corbis
It's a cliché to say that when the New York Times Style section notices a trend, it means that trend has died, but the body had been cold on ugly Christmas sweaters— which the Times says are "all the rage"— long before Guy Trebay got to it. Now we must bury it.
The Times is right that the ugly Christmas sweater-themed party/pub crawl/charity 5k has taken off in the past ten years, in part because self-serious types are willing to play along. "People who you would never expect to get on board for a themed party usually do," one such sophisticate told the Times. But that's because the ugly Christmas sweater theme requires zero creativity, and therefore comes with a low risk of silliness and/or trying too hard. Those Penn State sorority girls in the sombreros displayed more ingenuity, if more racism, than the attendees of your average ugly Christmas sweater party. Additionally, in the middle of a cold season crowded with high-pressure parties and likely to involve some weight gain, permission to wear a boxy, warm, ugly-on-purpose sweater is a major relief. Especially if you can pick one up for three dollars at Goodwill.
But you can't do that because thrift stores have been picked over by the many people who attended ugly Christmas sweater-themed parties when they were still cool. Or by the smarter people who bought all the good stock and re-sold it to slightly lazier people on eBay and at a huge mark-up. Meanwhile, here's Coldwater Creek, just trying to make a Christmas sweater that the school librarian will wear, without becoming some overpaid kids' ironic outfitters: "We work diligently to create relevant holiday sweaters for the customer who's 50, and that's not how the 50-year-old wants to be presented today."
While we're on the subject of relevance, once the ironic demand for an item is so high that businesses can turn a profit manufacturing and selling it, it's no longer ironic. We don't have anything against the canny Vermont stay-at-home mom who used Google trends to figure out what hipsters wanted and will therefore put her kids through college with the sales on her home-decorated, one-of-a kind, ugly Christmas sweaters.  But now there are these awful e-commerce outfits that produce Christmas sweaters so ugly it's not even funny. They're made of acrylic and have copulating reindeer and trompe l'oeil cleavage intarsia. According to the Times, a former lawyer and his college bro are making a million dollars polluting the universe with this garbage.
The redemptive aspects of ironic dressing — the thrill of the thrift store hunt, that it's kind of like recycling, how it confuses old people — have departed the Christmas sweater. If that makes you feel bad, get yourself a nice Fair Isle pullover and some more meaningful interests. And forgive us if we're being too harsh; all this bad news has left us feeling more Grinchy than usual.