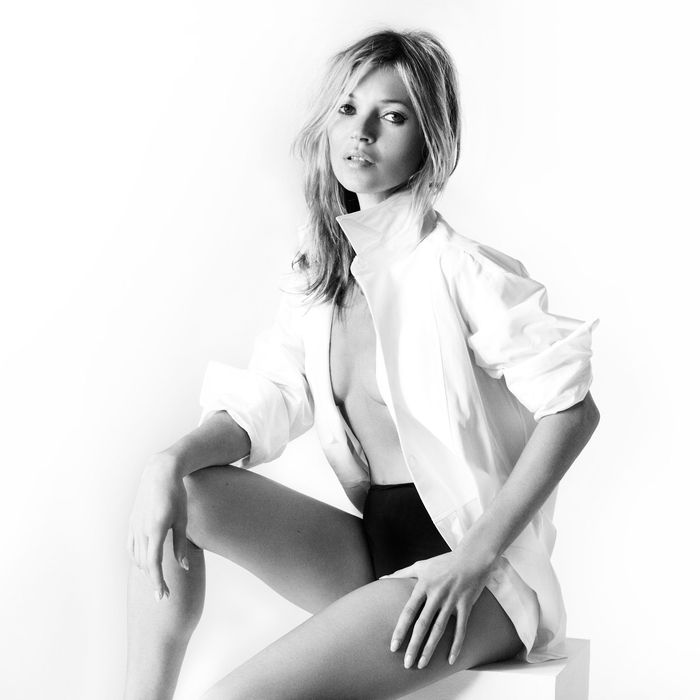 Kate Moss for Stuart Weitzman.
Photo: Courtesy of Stuart Weitzman
After two seasons with Natalia Vodianova as the face of Stuart Weitzman, Kate Moss will front the brand for spring 2013. Photographer Mario Testino suggested the switch himself, Weitzman told us over the phone on Friday. "He brought her up, and I thought, Well, I don't remember seeing too many bad pictures of her, so yeah!"
Moss, Vodianova, and Testino are just a few of the big names the brand has worked with recently. In August, Weitzman hired James Franco to direct an online video commercial starring Petra Nemcova. This slew of sexy, high-profile campaigns, which began after the company was acquired by Jones Apparel Group in May 2010, are a major part of Weitzman's bid to expand his youthful, fashion-forward customer base. And it's working: "More and more of our product is going to women ages 40 and under, who I'll call 'fashion appreciative,'" explained Weitzman. "It's a bigger percentage of our business than it was two years ago and certainly five years ago, and it'll be a bigger percentage next year." We caught up with the designer about working with Moss, shoe trends for spring, and why celebrity clients are so important these days. 
Your marketing approach has evolved a lot since 2010. Have your products have changed too?
No, we've always had the kinds of shoes that you see in the ads. We're just showing them off more now. I still don't think that beautifully sexy shoes necessarily have to be skyscraper heels. I thought our ad campaign this fall with our over-the-knee flat boot was great. You don't think of a flat boot as sexy, but it's alluring if you do it the right way. And that boot is always a best seller.
Have these high-fashion, sexy campaigns introduced a new kind of customer?
It's strengthened a growing customer base of ours. We sell to three generations of women. But more and more of our product is going to women ages 40 and under who I'll call "fashion appreciative." It's the growth vehicle of our company. But I also refuse to sacrifice comfort and practicality. I still pay tremendous attention to the way our shoes feel, and as long as we can hang on to that we will always have a wonderful business with women who need practical footwear.
Any big shoe trends for spring that we can look forward to?
I think black and white, worn together, will be the color of the season, and we'll see a lot of closed-toe sandals. Meanwhile, the platform isn't high fashion anymore. It isn't going away, because it's a wonderful comfort feature and a practical feature, but the coolest shoes right now don't have platforms, or they're hidden inside as opposed to outside. Also, you girls don't seem to ever give up boots. Last spring, around Easter time, I walked from my office to Grand Central Station, and I counted all the different shoes I saw, and the percentage came out to 60 percent boots and booties — in April! So those are key trends. Also, we've gotten the message that you all love flats and you want them to look cool. You don't want them to look orthopedic, and we're putting as much design into flats as we're putting into high heels.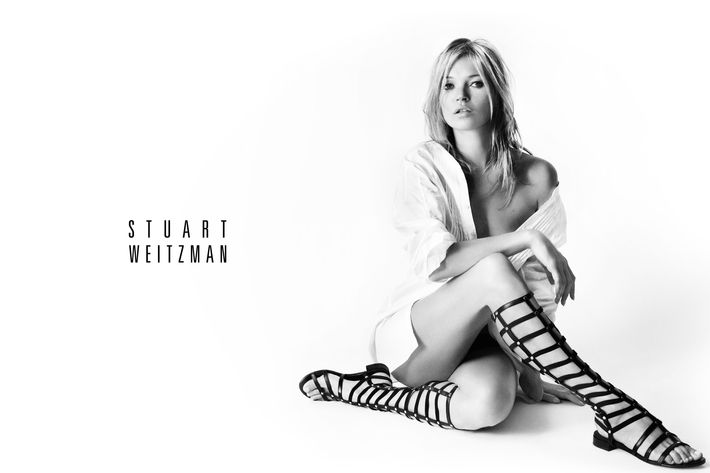 Will Kate Moss stick with you for a couple of seasons, like Natalia Vodianova did?
We hope so, maybe another two or three, but I don't know.
What was she like on the set?
It was amazing to me how super professional she is. When Testino wanted a pose, she knew exactly how to give it to him. We only had one retake out of six shoots. That's not normal.
Did you get to chat with her at all?
Yeah, she's really a very nice girl. She's got her feet on the ground. Girls who go through the trials that she went through seven or eight years ago — if they handle that as well as she did, they'll end up very sound individuals. She's a good example.
You've been very savvy about getting celebrities to wear your shoes. How have you managed to harness that?
Before it was a strategy, it was just something that evolved, and then we realized how valuable it could be, and so I made it more of my focus instead of just letting it happen. I set up a whole system in our factories to be able to accommodate special needs at the last minute [for celebrity clients]. Obviously, I'm not doing this because these people are paying a lot of money for the shoes they got — we all know that they don't for red-carpet events. But being in the public eye has given us a chance to be more successful. If you make something great in today's world and a lot of people see it, then you have a real chance of shining. That's the kind of publicity we want.