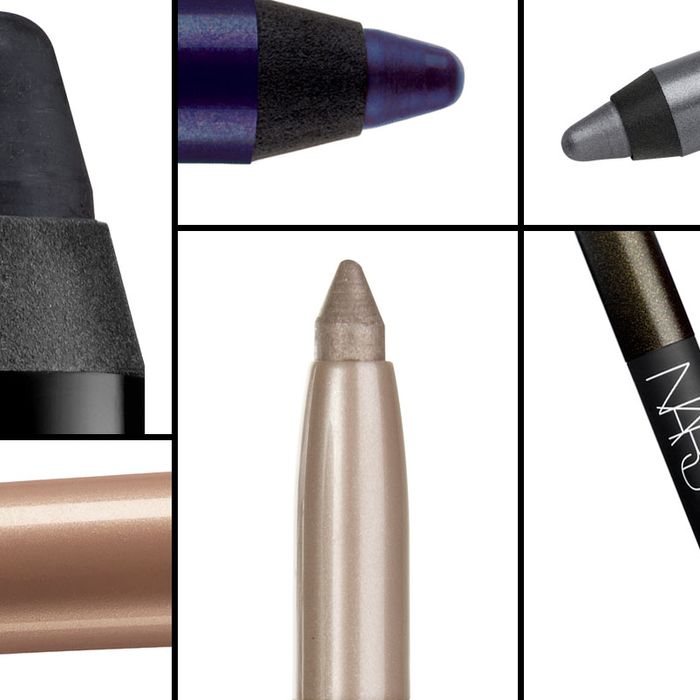 The thing about eye-shadow pencils is that all you really need is one color for a mistake-proof look. Usually creamy in texture, they glide on smooth and can easily be blended out with a fingertip or brush until there's the subtlest wash of color. A chunky, pencil-point-like tip makes for precise application near the lash line, which means drama seekers can create a smoky eye with just one tool. One swift line and these pencils are like your average eye liner, but blend out a bit more and it's suddenly become a shadow. Then layer on a more intense line by the top lash and it's a full-blown, K. Stew–approved smoky eye. Just in time for you to get glam for your family holiday party, here are seven of our favorites.
Sephora Waterproof Jumbo Liner 12HR Wear in Black ($14): This pencil glides very soft and smooth onto the lid, almost like a creamy pot of eye shadow. The color is a saturated jet black, yet unlike other pencils, this one leaves behind a subtle sheen on lids. Once it's on, there's a very short (read: few seconds long) window to smudge and blend before the color sets.
Nars Soft Touch Shadow in Aigle Noir ($24): A light tap, tap, tap with the sides of the pencil (not the tip) will leave lids with a soft wash of gold-glitter-dusted, blackish-brown shadow. It's subtle enough for day. But if you're feeling even more festive, draw on a bit more using the pencil point, especially close to the lash line, for a more intense look.
Smashbox Waterproof Shadow Liner in Lapis ($22): This deep amethyst hue is anything but costume-y. Even those who stick to a black-charcoal smoky eye will get into the party makeup spirit with this rich, subtly shimmery color. Grown-up Debbie Harry's everywhere can get onboard on this.
Stila Smudge Crayon in Smoke ($22): It's not quite gold, not quite champagne, but the color of shimmering sable. Deluxe. The pointy, self-sharpening tip makes for an easy applicator to highlight inner corners of eyes. Or drag it across the bottom lash line to add balance for a dark, smoky eye.
Urban Decay 24/7 Glide-On Shadow Pencil in Mercury ($20): This silvery shade isn't your traditional moon-dust-like shimmer. It has a bit of chromelike depth for a more moody effect than the others.
Make Up For Ever Aqua Shadow #28E ($20): Unlike other water-resistant pencils, this one's blendable even a few minutes after application. This muted, shimmery copper shade would also be universally flattering on any skin tone.