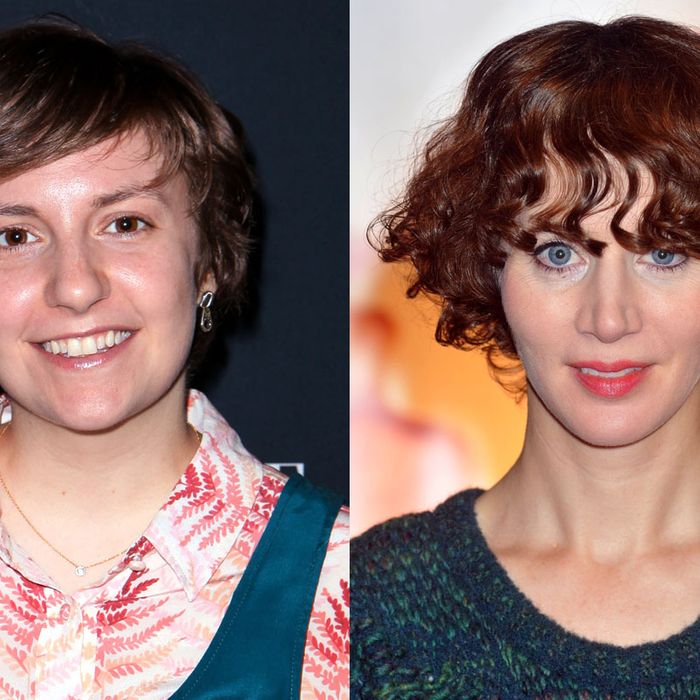 Lena Dunham's lawyer asked Gawker to remove the proposal for her book of advice and memoirs that the site published last week and for which Random House paid $3.7 million. In response, Gawker removed the proposal but kept up a handful of out-of-context quotes, adding a couple of lines of analysis to each. The commentary is, to a certain extent, a joke about the fair use exception, which allows you to violate something's copyright as long as you are commenting or criticizing the material. That's something Gawker's Lena Dunham beat reporter John Cook had heretofore declined to undertake sincerely. Here's what Dunham's No. 1 critic/gadfly finds objectionable in her proposed memoir–advice book.
"Nauseating and cloying precociousness … permeates the entire proposal." Complaints specific to Dunham as a person include her "narcissism," her "navel-gazing bubble of privilege," her "self-dramatizing" (how else to write a memoir, one wonders), her "obvious" "desire for an attention-grabbing condition" (by which he means anorexia), her "desperation" "to have the minutiae of her life — and her dietary choices — validated by cultural arbiters."
This one is my favorite:
Dunham's out-of-context sentence: I've never kept a diary, [because] if a girl writes in her diary and no one's there to read it did she really write it at all?

Gawker's commentary: Dunham is incapable of conceiving a rationale for writing that doesn't serve the goal of drawing attention to herself.
The notion that writing for public consumption constitutes "drawing attention to herself" (while we bloggers, what, cure leukemia?) reminds me of this exchange that occurred at the end of last month's New Yorker fiction podcast. David Sedaris read a short story by Miranda July, "Roy Spivey," and afterwards, Deborah Treisman asked Sedaris why he thinks July is so divisive. People are either rabid for her work or they can't stomach her quirky tweeness.
"I think that people who don't like her are just jealous," Sedaris replied. "She's so talented." He added that, "as the last person on Earth to get the Internet," he's often surprised when he reads a story online and then sees nasty comments.
Sedaris: I think really? You really feel that strongly about that person? I feel like women get it more than men. You know, it's sort of like Lena Dunham. Like, really? What is your problem?

Treisman: I think it's interesting you made the parallel with Lena Dunham. There is a certain amount of just hostility that gets shot at a woman who makes herself central to her work. I think what they share is a certain refusal to be embarrassed about who they are. People like women in the spotlight either to be perfect or to be embarrassed not to be perfect…

Sedaris: The not-caring seems to irritate people more. But it's like, "Didn't you read how much I hate you?" No, I don't read any of that stuff because I don't care that you hate me. Maybe that just enrages people even more. They'd much rather read, that "after I read those comments I decided to stop making movies."
I only disagree on that last point. Gawker and much of the culture-blogging ecosystem would be at a loss if we could no longer bash Lena Dunham's choices, luck, existence. (Ditto Lindsay Lohan's and Taylor Swift's.) Happily, as far as we know, Random House isn't canceling Not That Kind of Girl on the basis of disapproving Gawker commenters and Girls' second season is still scheduled to come back January 13. As Dunham's mom Laurie Simmons told The New Yorker, "When her HBO show aired the blogosphere was full of mean criticisms — about racism, about white girls who were privileged.  But she just continues to tell her story."