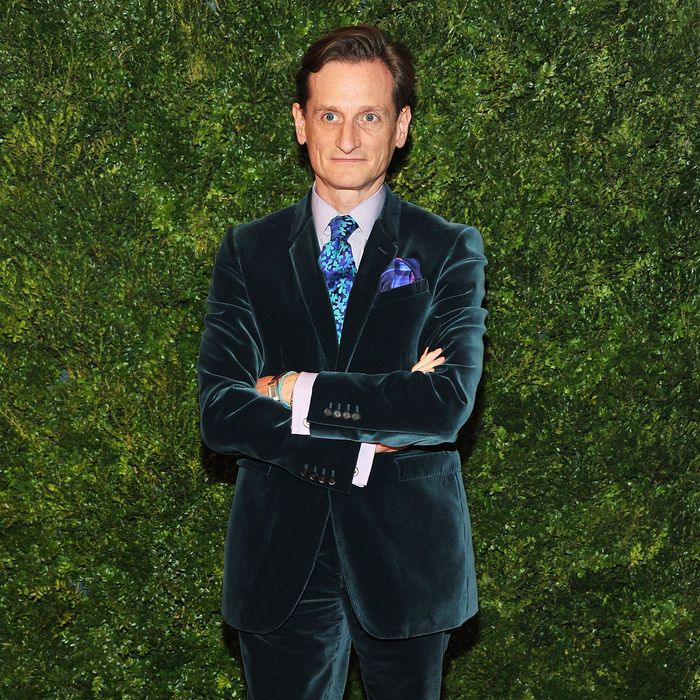 Hamish Bowles.
Photo: Theo Wargo/Getty Images
Pegged to Vogue's 120th anniversary, HBO's new documentary The Editor's Eye is a retrospective of the magazine's visual history and those behind it — namely, the domineering fashion editors known for their quite particular tastes. "We have kind of a policy at Vogue of not celebrating anniversaries," explained Hamish Bowles, the magazine's international editor-at-large, when we spoke to him on the phone yesterday. "But Anna thought we could observe it in an oblique way by celebrating the editors who created these iconic images that, through the decades, really expressed a certain moment in fashion and time."
The documentary, which airs tonight, tracks the different eras of American Vogue since its inception in 1892. Former staffers like Carlyne Cerf de Dudzeele, Babs Simpson, and Polly Mellen tell war stories about supermodels and shoots gone awry, while current editors like Grace Coddington, Tonne Goodman, and Camilla Nickerson explain their respective tastes. Interviews with Wintour, Bowles, and characters like Linda Evangelista are also sprinkled in. We talked to Bowles, who has worked at the magazine for twenty years now, about his co-workers, changing times at the magazine, and his mysterious new book project.
A lot of people assume that fashion editors just dither around and go to parties, and this documentary really attempted to dispel that idea. Do you ever get frustrated by people misunderstanding what it is that you and your co-workers do?
Personally, of course it's exasperating when people think you're just swanning around in Europe, going to the occasional fashion show and then being glamorous at a party. If they only understood the slog of Milan, where you're at the end of a three-week run of eight to ten shows a day, starting with a 9 a.m. show and ending with a 9 p.m. show, trying to get a sandwich on the run, and then often going to a business-related evening event. But people are free to think what they want to think, and it's amusing to me, seeing how unbelievably hard my colleagues work and how completely focused and dedicated they are, in some instances, for decades. It's also funny that there's this droll concept that's floating around. I don't want to entirely deflate the myth. [Laughs.]

Between this documentary, the September Issue, and reality TV and the Internet, the fashion world has become somewhat less mysterious.
Yes. But I was speaking to some fashion designers yesterday who found the documentary quite revelatory because they didn't have a sense of what happens to a dress after the intern has wrapped it up and left the building to deliver it to Vogue. It still is a little bit of a mystery. It's also alchemical, what happens in the studio, or on location, between the fashion editor and his or her photographer and the team that they've assembled. It's difficult to describe moments where there's that incredible synchronicity. It's hard to articulate, and there is no magical formula for making a good picture. It's a great deal of sophisticated preplanning, and then you're in free fall. So part of it will always be unkown.
Vogue has a reputation for being an intimidating workplace. Do you feel that it has gotten more or less so over the years?
Well, for me, infinitely less scary. When I started in 1992, I really thought the Vogue fashion department was one of the most frightening places on the planet. You had these extraordinarily larger-than-life personalities, and we were just coming out of a larger-than-life era in fashion. There were the supermodels and Karl [Lagerfeld] and Gianni [Versace] and Christian Lacroix, and everything was Reagan and Ivana [Trump] and opulence and over-the-top. And now I think the cast of characters is mellower. I'm not saying that it's not an intimidating place for a junior fashion assistant to start, because these are editors who know what they want and keep you on your toes. You just have to be so ahead of the curve.

Why do you think it has gotten mellower?
I think the personalities are mellower. I think fashion has changed, and it's probably less overtly competitive between the editors. It's more collegial than it was, at least as I remember it from twenty years ago. But I think it mostly has to do with the personalities.
Does any particular editor have a more intimidating reputation than the others?
When I first arrived, they were all intimidating in different ways. Polly [Mellen] was such a life force and so fun and vibrant and flamboyant and profoundly demanding. Carlyne [Cerf de Dudzeele] was also larger than life. They were all thrilling and intriguing and terrifying. Both [Polly and Carlyne] have since moved on from Vogue, and obviously they were at very different periods in their lives then, but it was certainly much more competitive then than it is now. These days, I think the editors are all very friendly with one another. Some of them count their best friends on the masthead, so that's really changed the dynamic a lot. I arrived at the tail end of what I understand to be more of a Grace Mirabella model, which was a bit more factional. Editors used to compete for the same dress and be more vocal about things.
Is it ever terrifying to get dressed for work knowing that you'll be in the presence of such exacting eyes?
I'm so focused on matching my pocket square to my socks that I don't really think about that. [Laughs.] But really, I would say absolutely not. All our ladies have such a strong personal uniform that has become iconic in some instances. I think there's much more fashion competition in the more junior levels of the fashion department. And that's exciting and stimulating to see, because it's Vogue, it's great to see people dressed originally and with great style and panache. It wouldn't be Vogue otherwise.
It's interesting that the higher up on the masthead you are, the less you worry about what you're wearing.
Well, after all these years, our fashion editors have evolved pretty understated looks for themselves. They're all very, very formidable presences personality-wise, and I think they want to be more self-effacing and less conspicuous with their appearances.
How do you think that Photoshop has changed the job of a fashion editor?
I think Photoshopping has changed the nature of the beast, I certainly do. I was a fashion editor for years in London before I came to Vogue, and I spent my life arranging the folds of a ball gown skirt for a picture and pinning fabric and using all those stylist tricks. And you don't have to do that now because they can do it in Photoshop. Still, all our editors want the image they see in the studio to look absolutely as perfect as it can, and then Photoshop is, in some instances and depending on the photographer, used to tweak it to a different level. But thankfully, we don't live in the days when Guy Bourdin would look at the gray sea in Normandy and say, "I need it blue," and you just had to get hundreds of canisters of blue dye and fling it off the end of the pier and, you know, good luck. So it's probably made some things easier and, at the same time, more difficult in a way, because in some instances you have to be able to revisualize what the final image will be after Photoshop, which may not be precisely what you see in front of you.
Do you think that there's a big difference between looking at an image online versus one on paper?
I can only speak for myself, but I just like the tactile quality and the idea of a glossy magazine. It's what seduced me into this world as a little boy, looking at copies of British Vogue. I also like the sense of permanence — it's something you can keep and constantly refer to. Obviously, the Internet and the use of images on the Internet is valuable on so many levels, but I'm deeply and irrevocably attached to the idea of something that I can hold.
Do you have plans for a memoir, as Grace Coddington recently published?
Yes. I certainly have plans to do so. Yes, I do.
Is there any sort of timeline?
[Long pause.] It's certainly something I'd love to do.
In Vogue: The Editor's Eye airs Thursday, December 6, at 9 p.m. on HBO.