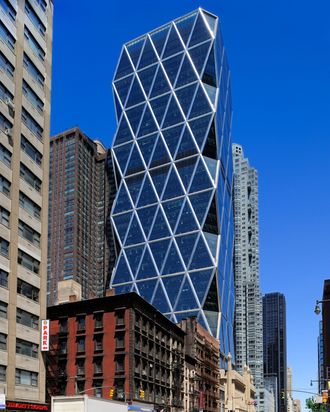 Scene of the (alleged) crime.
Photo: Bertrand Rieger/Corbis
Hearst's legal counsel is currently preparing to defend itself against the infamous class-action lawsuit filed earlier this year by Diana Wang, a former intern at Harper's Bazaar who has accused the company of violating federal and state labor laws by requiring interns to work for free. Last Friday, a number of former Harper's Bazaar interns — all of whom were unpaid — received the following e-mail, which was then forwarded to us.
The e-mail states:
I understand you interned at Harper's Bazaar. As you may have heard, Hearst has been sued by former interns who claim they should have been paid for their internships. I am a lawyer for Hearst and I am collecting stories from interns who valued the opportunities and experiences they received from their internships. If you would be willing to speak with me about your internship, please respond to this email or call me at (212) 649-2076.

You have no obligation to speak with me, of course, and if you are represented by counsel in the lawsuit against Hearst or plan to opt-in to the case, please disregard this message and do not respond.  If that is not the case, I hope to hear from you.
Hearst now only accepts interns who can receive documented school credit for their internships. 
Calls and emails to Hearst's legal counsel have not been returned at this time; it's unclear how many people received this e-mail or what kind of response it has gotten. 
Earlier: The Norma Rae of Fashion Interns